Poll Results: Universal Service Commitment what the public want
Thursday, May 9, 2013 10:31 AM
One of the key points of the original Universal Service Commitment was that it would be suitable for streaming web based video from a service such as iPlayer, and while a 2 Mbps service in 2015 should still be capable of that, there will be many more things people and business are using their broadband connection.
We have now ran our 2013 edition of a poll on what people think the basic Universal Service Commitment speed should be, and over the last four years the result has been remarkably consistent, with around 1 in 3 saying that the USC speed should be 20 Mbps, ten times faster than the 2 Mbps originally talked about in 2008.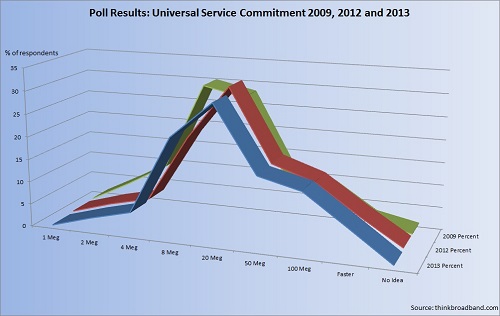 (click image for larger version)
The political answer to the evidence that the public overwhelming believe that 2 Mbps is past its use-by date for broadband is that the 2 Mbps represents a minimum and not a target speed, and to some extent we see this with some of the BDUK projects, where some projects are looking to deliver speeds of 5 to 6 Mbps to the final hardest to reach few percent of each county.
The 2013 instance of the poll attracted over 1,800 responses and with the consistency compared to the 2012 results suggests that the people responding are making reasonable choices beyond just always wanting more. The problem for those looking to invest in broadband improvements is that while 75% appear happy to consider changing provider to get the speeds they want, around half of those taking part in the poll want to speed less £2.50 extra to see a doubling of their broadband speeds. Regulating to encourage infrastructure investment and promote retail competition is not an easy task in this environment, where only small incremental changes in price appear tolerable to many people.
Comments
Post a comment
Login
Register