Virgin Media now has over 58% of customers on 30 Mbps or faster
Wednesday, April 24, 2013 10:01 AM
Virgin Media is continuing to grow and according to its latest financial results they are 85% through their speed doubling programme. The cable operator has grown its number of cable broadband customers from 4.27 million to 4.31 million as of 31st March 2013, though this is offset partly by the number of people on the Virgin National ADSL2+ service shrinking down to 180,900, to give a national total of 4,490,500 broadband customers.
While the financial results do not give a full break down of the speed tiers we chased Virgin Media and obtained the following graphic detailing the change over the last 12 months. With 58% of the cable broadband customer base are on a 30 Mbps or faster service, this is an increase of 337,900 compared to previous quarter and as the chart below shows a significant change in the range of speeds compared to 12 months ago.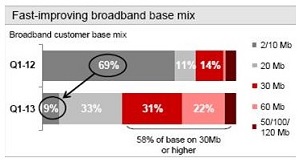 Change in proportion of customers on different product speeds for Virgin Media over the last 12 months
The proportion of customers on the 50/100/120 Mbps products has remained static at 5%, but the biggest change in the last 12 months has been the reduction of the number of 2 and 10 Mbps customers from 69% of the userbase to just 9%.
The business side of the Virgin Media features heavily in the quarters results, because a significant five year deal has been signed with Sky, and a ten year deal to provide backhaul at 1,500 locations for Telefonica UK. These deals now mean that Virgin Media now has material contracts for backhaul capacity with all the UK mobile networks, hopefully this will help illustrate that BT does not have a total stranglehold on fibre networks in the UK that some wish to portray.
Update 4pm: Added chart to show how split of customers on cable service has changed in the last 12 months.
Comments
Post a comment
Login
Register