Poll Results: What is the most important for broadband in the UK
Wednesday, April 24, 2013 11:19 AM
The most recent poll we ran reveals perhaps why debate over what should be done to improve broadband in the UK can be so passionate at times. We asked our visitors 'What do you feel is most important when it comes to broadband changes in the UK?' and the response is something of a surprise, in the sense that no single answer dominates.
The question is one that has been posed by The Institution of Engineering and Technology in the run up to its Quality or Coverage event on Thursday 25th April.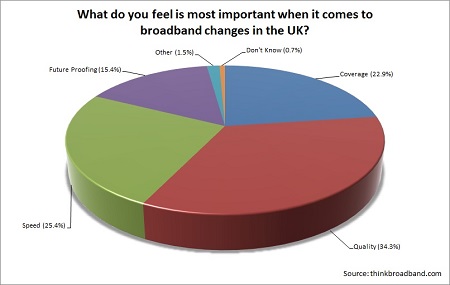 (click image for larger version)
The poll received over 1,000 responses and while quality was picked by 34.3% of those answering it is clear that speed (25.4%), coverage (22.9%) and future proofing (15.45%) are still important factors. If there is a conclusion to be made then perhaps it is that any provider would do well if it was to achieve some sort of balance between these factors, e.g. a service that is sold as 200 Mbps but only ever delivers 15 Mbps when people are home from work and is no good for gaming would be the wrong to go in improving the UK broadband picture.
We would ran a second poll looking at whether there is a big difference between the cities, suburbs and rural UK and the same question, but the problem we would face is that as an online publication we are not likely to those in areas with no or poor broadband voicing their opinion.
Comments
Post a comment
Login
Register