EE holds steady on fixed line broadband but good 4G growth
Tuesday, April 23, 2013 11:07 AM
EE (aka Orange) may only have around 3.2% of the retail market for fixed line broadband but its results for the 1st quarter of 2013 reveal that the real money is in the mobile market, and in particular the fact that in the five months since their 4G launch they have signed up 318,000 4G customers.
"Today's results are in-line with our expectations, and we are making good progress focusing on high value segments. We're announcing 318,000 4G customers after just five months of trading, strong postpaid net adds and continued growth in our underlying average revenue per user. We expect to strengthen our industry leadership position in the year ahead as the 4G roll out continues and we introduce double-speed 4GEE."

Neal Milsom, Chief Financial Officer of EE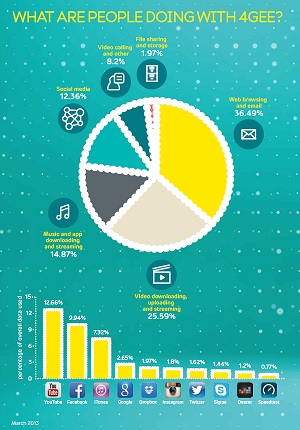 The fixed line broadband sector after a big dip in numbers over the debacle that was the ending of the 'free' broadband offer, has largely recovered with the operator holding steady at 694,000 customers. An interesting statistic that is often missed from financial results is the number of dial-up customers, which at just 5,000 (down from 14,000 in Q1 2012) suggests that the number stuck on dial-up is shrinking very rapidly. A key figure missing from the EE results is how many fibre customers have signed up, the omission suggesting it is on the small side.
The presentation included a pretty infographic that shows what people are actually doing with the their 4G connections, which ranges from carrying out speed tests through to ensuring our addiction to Facebook is fed no matter where we are, oh and while YouTube is using the most data, surely that cannot continue as there can only be so many cute cat videos in the world. If you are wondering what Deezer is, it is a music on demand site that lets you access 20 million tracks anytime and anywhere. Alas there is no actual information on the actual amount of data used by customers on 4G, or which of the bundles is most popular.
Comments
Post a comment
Login
Register