People claim that always-on requirement for gaming is a turn off
Monday, April 15, 2013 12:28 PM
In the gaming community Digital Rights Management (DRM) that requires a console or PC to be online to verify a game has never been popular, and the recent launch of SimCity that could only be played online revealed the problems in terms of ensuring that a game had adequate resources to support the number of people buying it.
Our poll last week, looked at the scale of the public perception for an online requirement in a games console, and with the recent rumours over the next Xbox games console (maybe called X720) needing to be always online it was highly topical. The poll attracted over 1,500 responses and revealed that some 56% of those responding would be put off a console if it needed to be online during single player game play.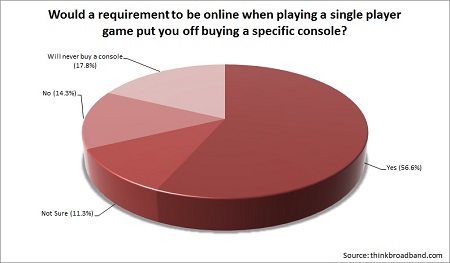 (click image for larger version)
It is likely that after a Saturday when the Xbox Live sign-in system was offline for many people, with the result that online games and third party services like Netflix, Lovefilm and NOW TV did not work on the Xbox 360 platform, fortunately a great many single player games still worked. Back in 2012 the Sony PS3 store had its infamous hacking incident that did not do much to help the public perception of central gaming login systems.
What was interesting in the poll is that people are clearly not frightened of having their games console online as 94% of those with a console or dedicated gaming PC have it connected to their broadband service. Ethernet unsurprisingly is the preferred method for connecting a games console and wireless with its potential for producing variable latency (a killer in online gaming) is still heavily used, mostly for convenience we suspect.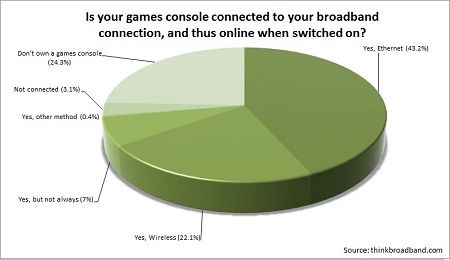 (click image for larger version)
One aspect of online gaming and the current broadband services in the UK is that people are always looking for a better service, and we tailored one question to look at reliability and whether a broadband connection failing had caused people to exit an online game unexpectedly. With some 20.9% saying they had never lost a connection during game play, and another 34.2% saying it was rare it seems that reliability of broadband is probably not the main reason people are scared of any always-on requirement. For those 8.8% of people who say they lost connection when gaming most days, it is time to really check the reliability of your broadband connection, and if using wireless consider getting an Ethernet connection to the console to improve reliability.
Obviously not everyone owns a games console, so we did ask a question to learn the ratio of the various platforms people own, and one interesting snippet is that that around 23% of our visitors don't own a gaming console or PC, which when combined with the 17% who said in another question they will never buy a console suggests the growth in sales of consoles is not about converting new people, but the upgrade market. The size of the upgrade market is shown by the fact that some 25% of those taking part in the poll claimed to own a mixture of consoles.
Comments
Post a comment
Login
Register