AAISP Launches Office::1 package
Thursday, March 28, 2013 8:07 PM
Following the launch of its Home::1 package in November, AAISP has now launched a new Office::1 product for businesses designed as affordable lease-line replacements for those seeking a resilient service. These ::1 packages have been designed to provide a complete package at a simple monthly cost against what is otherwise quite a complex pricing structure for bespoke packages where users have to buy a number of 'units' depending on their peak and off-peak usage and wholesale network, something that can put off less technical customers.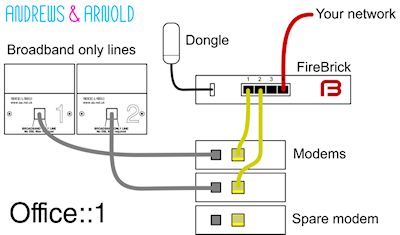 The new Office::1 package includes 100GB of usage at any time; excess usage will be chargeable or 200/300GB options are available and includes installation/rental of two phone lines, a FireBrick FB2700 router (which can also function as a PBX), three broadband modems (one for each line; and one spare in case a modem fails) and a mobile data dongle to provide 3G backup if the two fixed lines were to both fail (AAISP can provide a mobile service for £10/setup + £2/month excluding data chages; or you can use another mobile provider if you prefer). Where possible, each of the two lines will be connected via different wholesale network operators and/or technologies (e.g. FTTC + ADSL) to deliver a more redundant service. The lines can also be bonded together to deliver much faster speeds, especially useful to those on longer lines with limited upstream capacity.
Monitoring of the circuits is provided by AAISP and one of the telephone lines is provided with the 'fastest response' maintenance service which should mean a line fault is rectified within 7 hours.
The cost of the service is £300/setup + £150/month (all inclusive; ex VAT). More details here.
Comments
Post a comment
Login
Register