Hyperoptic continues to show the way with FTTB roll-out
Tuesday, March 26, 2013 10:59 AM
While some fibre operators are very good at talking the talk, Hyperoptic appears to have mastered the ability to walk and talk at the same time. The fledgling company which appeared in 2011 announced 10,000 flats and apartments where its FTTB (Fibre to the Building) service was available in October 2012. Now just a few months later the footprint covered by the service has increased to 20,000.
Most importantly this is not just a case of rolling out infrastructure in the hope that one day people will signup, with take-up rates that have been as high as 60% in some developments it is clear that there is a demand for the products, which range from 20 Mbps for £12.50 per month through to the full symmetric Gigabit service at just £50 per month. Outside the academic world, which often gets the fastest speeds from our speed tester, Hyperoptic is often showing up with speeds that are around thirty times faster than the average we see for London.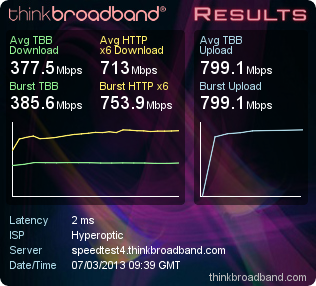 Symmetric Hyperoptic Gigabit connection speed test result
The 60% take-up rate is not uniform across their deployment area, but the average take-up is running at over 20%, which reflects both the effect of engaging with residents and landlords as much as the demand for better services. In many parts of London residents in flats can already get FTTC based services, but the additional vertical distances can increase line length significantly for FTTC services.
With 4K movie downloads on their way at a hefty 100 GB (GigaBytes), and a much higher utilisation of upload bandwidth from the recently announced Sony PS4 which will be able to upload video from your game play those looking to embrace the best of technology may in just 9 months time be clamouring for speeds like what Hyperoptic is able to deliver now.
Comments
Post a comment
Login
Register