UK average broadband speed rises to 12 Mbps
Thursday, March 14, 2013 11:31 AM
In a world where bad news travels fast, it is nice to have some good news and that is that as more people gain access to superfast broadband services, more people are buying them and this is having an impact on the average speed of broadband across the UK. Ofcom in its latest broadband performance round-up is showing that in the six months to November 2012 the average has risen from 9 Mbps to 12 Mbps.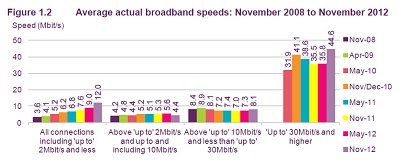 Click image for larger version
The difference in speeds between the up to 30 Mbps products and those that are sold as faster than this is very striking. What is of particular importance for those in areas outside the roughly two thirds of the UK which has a choice of one or more superfast service is that the ADSL and ADSL2+ products are not changing in speed. You could draw the conclusion from the data that speeds on the slower products are getting worse, but this is largely attributed to the demographics of those left on the slower services, i.e. those on long telephone lines and rural areas.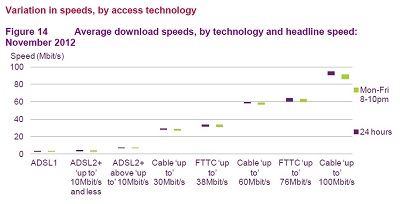 Click image for larger version
The battle between the technologies continues and with Virgin Media forming the sole cable provider in the testing, and Sky and TalkTalk's Fibre products not figuring in this round of testing, this chart is a comparison of BT Retail versus Virgin Media.
"2.16 The proportion of BT FTTC panellists receiving more than 90% of their maximum speed at peak times was 91% for BT's 'up to' 38Mbit/s service and 88% for its 'up to' 76Mbit/s service, while among the three superfast Virgin Media cable services included in the analysis the figure was 70% for Virgin Media's 'up to' 60Mbit/s service, 48% for its 'up to' 100Mbit/s services, and 35% for its 'up to' 30Mbit/s service. This suggests that while there was relatively little congestion in BT's FTTC network in November 2012, levels of contention were higher in Virgin Media's cable network during the period."

Extract from Ofcom UK broadband speeds report - November 2012
Some of this, as Ofcom notes, is attributed to variations in traffic management policies applied by providers, and while it makes the Virgin Media 100 Mbps service look bad, at peak times Ofcom states it has a speed range of 86.1 Mbps to 91.8 Mbps. The closest BT product measured was the FTTC 80/20 service which for the same times recorded 60.4 Mbps to 64.5 Mbps.
It is nice to report some positive progress on the UK broadband landscape, as the normal tendency is that everything is bad. With Sky and TalkTalk superfast services now appearing on our own speed test data we look forward to Ofcom expanding its measurement to widen the data set and help break the illusion that superfast services are only available from BT Infinity and Virgin Media.
Comments
Post a comment
Login
Register