Better broadband now on its way to Lincolnshire
Wednesday, March 13, 2013 11:12 AM
Residents and businesses in Lincolnshire that have missed out on better broadband through purely commercial roll-outs are now set to start seeing improvements to speeds and service availability.
Lincolnshire County Council has signed a contract with BT with the purpose of improving broadband across the county, the headline targets being that at least 88% of premises will have access to super-fast broadband by April 2016 and the aim is that everyone else will have access to at least a 2 Mbps service. The superfast services will be mainly FTTC based, though the option of fibre on demand (with attendant costs) will be available, some areas are expected to receive a native FTTP without the extra costs of fibre on demand. There is some wireless going into the mix, but we expect this to be focused on ensuring the 2 Mbps minimum speeds.
"It's fantastic that for the first time, broadband will be available everywhere in Lincolnshire as the result of one of our largest super-fast broadband projects in the country. The UK already does more business online than any other European country, and widespread access to super-fast broadband will provide a tremendous boost to Lincolnshire's local economy."

Communications Minister Ed Vaizey
The project will utilise £48m of public and private funding, with £18.8m from BT and £14.3m from the BDUK fund, the balance coming from the county and district authorities. The usual planning period will now start, with the first connections delivered by the project expected in January 2014. Existing commercial roll-out that has already been planned will of course still take place during 2013.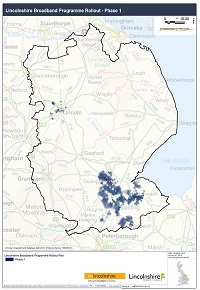 Lincolnshire Broadband Programme Phase 1 Rollout
January 2014 to June 2014
Maps giving details of later phases available here
Click image for larger version
The OnLincolnshire website already has a basic map showing what the post 2016 broadband landscape is expected to look like and a more detailed map is available via a PDF.
The 88% receiving superfast speeds, takes into account the varying performance of any FTTC based service, the percentage that should have access to a FTTC/P based service will be at least 94%. These figures imply that perhaps 6% of the cabinet to premise line lengths in Lincolnshire are such that VDSL2 will run at speeds below the critical 24 Mbps level, or expressed another way only around 6% of cabinet line lengths are longer than 1km.
Comments
Post a comment
Login
Register