Do you have a hidden ninja Openreach street cabinet?
Monday, March 11, 2013 6:14 PM
The idea of camouflaging street cabinets and the increasing amount of other hardware housing electronics around UK streets has been raised before, but it is now a reality. We spotted the cabinet below in Wandsworth Common, though the 'Fibre broadband is here' poster does ruin the illusion slightly.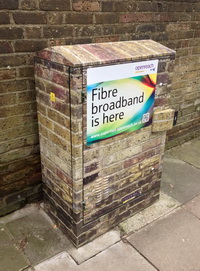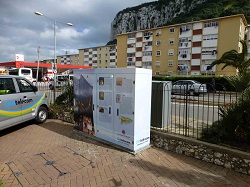 Click image for larger version
The vinyl wraps are produced by Wrap and Hide, who will do custom wraps for many different things, from helping to hide a meter cupboard on your house through to full size FTTC cabinets. Each wrap is unique generated from photographs to try and produce the best possible wrap, and the wraps have an expected life span of five years.
The firm that produces the wraps also produces artistic versions as a cabinet that merges into the background in a high traffic area may present a hazard. Who knows perhaps we may see councils embarking in one-upmanship, as some of their arts budget is diverted to produce street art for Openreach FTTC cabinets.
Update 15/03/2013: We have spoken with Wrap and Hide and they have supplied a picture of another style of vinyl wrap, this time on a fibre cabinet in Gibraltar where Gibtelecom are not disguising the cabinets, but using them as a useful information board for tourists.
The cost in the UK for the vinyl itself to the specification used on the Openreach cabinets is around the £400 mark, plus other costs like photograph and actually applying the wrap. Part of the extra cost compared to our earlier guess is that there is an anti graffiti layer that should help avoid people using the cabinets as a sketch pad.
Comments
Post a comment
Login
Register