Storm in a valley over Superfast Cymru parody website
Monday, March 11, 2013 1:51 PM
When setting up a parody website how much content is reasonable to re-use? It seems the site Superfarce-Cymru.com has gone too far according to the Intellectual Property Department of the BT Group, which Richard Brown who put up the site that parodies the Superfast Wales website. Mr Brown has until 15th March to remove the infringing material or face further legal action.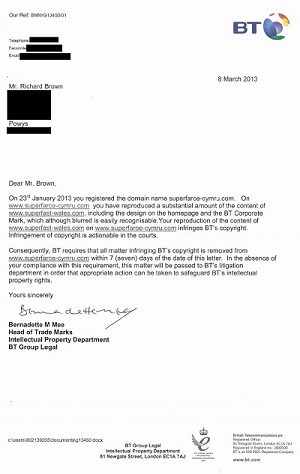 Click image for larger version
The two websites are very similar, but it is the message that Mr Brown is conveying that is very different, and that is the power of parody, highlighting perhaps what others will not say.
The message contained within the SuperFarce website is an important one. The Government in Wales has a habit of grandiose statements of what 'good' will come from the 'investment' that they are making in broadband. The reality always falls short.

RIBS (Regional Innovative Broadband Support) was intended to eliminate not spots in Wales. It actually resulted in the capability of delivering to a few thousand in the South of Wales. BT operated entirely within their contract terms.
Fibrespeed was slated to stimulate £29m per annum increases to the economy in Wales in return for it's £30m spend. Not only has that not happened, but the Welsh Government seem so disinterested in that relationship that hundreds of kilometres of fibre are in the ground unlit, and BT are going to overlay the Fibrespeed network using NGBW (Next Generation Broadband Wales) money. A move that will see the Fibrespeed network rendered virtually useless.

The superfast-cymru website is what the Welsh Government point to in order to try and answer our questions, it only seems appropriate that there is an alternative that points out that this may not be the only view of things.

Mr Richard Brown talking about the Superfarce website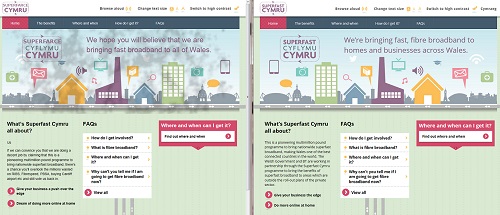 Click image for larger version
It seems Mr Brown is not targeting BT but is trying to reflect what may actually be common feeling amongst those in Wales worried about the broadband roll-outs with the re-interpretations of the various text elements of the site. Far too often politicians only turn up when there are votes to be won rather than when members of the public want more information on how the roll-out is progressing.
Comments
Post a comment
Login
Register