Poll Results: Are up to speeds good enough?
Wednesday, February 13, 2013 4:26 PM
Our latest poll looked at whether the claims of 'up to' in broadband speeds are still a major problem and whether there would be any room for a service that could remove the 'up to' gamble from its service.
Of course there is one obvious solution and that would be install fixed speed connection services, avoiding the variability that distance and interference can introduce, and to that end the FTTH Council Europe is pushing FTTH and FTTB technology as a solution.
The poll attracted a good response with over 1350 people responding and the results show that while by and large changes to the way broadband has to be advertised in the UK are working. The rules state that for a speed to be used in an advertisement 10% or more of customers should be able to get that speed or faster, 27% of respondents got the speed advertised or faster. Alas if we look at the lower end some 46% described their service as being well below the advertised speed or giving them unacceptable speeds. For some providers they have in the last 12 months removed product speeds from advertising, or providers only talking about download speeds, with the upload speed hidden away in the small print of the contract.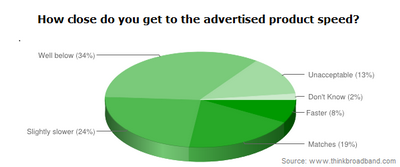 Click image for larger version
In the UK providers generally follow a voluntary code of practice on speeds that should give the customer a personalised connection speed estimate at the time they actually order a service. This should be more accurate than the headline figures that feature in the adverts, for fixed speed connection services like DOCSIS cable products and FTTH/B products this will of course match the advertised speed. The responses from those taking part in the poll show 42% are getting the quoted speed or faster, and some 27% get a speed that is well below the estimate or considered unacceptable. While the experience is a significant improvement on the speeds that appear in advertising it still shows that consumers are getting a variable experience and that UP TO is still misleading people.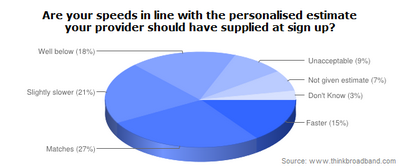 Click image for larger version
The UK broadband market is often touted as one of the most price conscious markets in Europe, so to find that 26% of those responding would pay around £5 extra to get a speed guarantee on their product and a further 28% saying they would consider it suggests that there is a market for providers to offer a service that carries some form of guarantee. While guarantee's are common with business grade products these usually carry expensive price tags, but it seems there is scope for a service to offer something like a minimum connection speed and throughput guarantee.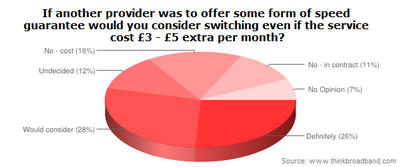 Click image for larger version
The issue of UP TO and the distance problems that plague the ADSL and FTTC services are set to clash with the increasing popularity of watching TV and films over the Internet. In the UK we are already seeing speeds for early adopters of VDSL2 (FTTC) products see speeds drop due to crosstalk caused by take-up and other unexplained drops in speed.
The issues of capacity at the broadband provider are already technology neutral as the core networks are all fibre based and can be scaled fairly easily, but as people at home start to stream HD video, with children watching a different film to the parents the need for reliable stable connection speeds is increasing. Of course pure fibre (FTTH) networks will not solve the problem of a provider trying to cram twenty thousand 100 Mbps customers onto just 1 Gbps of Internet capacity, but once the fibre infrastructure is in place over the whole link increasing speeds to fix these problems should be easier.
The FTTH Council Europe covered the topic of transparency on speeds a few weeks ago and it seems 'up to' is also becoming a big issue with electric cars and the variable performance of batteries in different weathers and driving loads. At least with broadband up to figures you don't have to turn down your heater to go further when its cold.
One aspect that is yet to be really explored on a large scale in the UK, is the ability for the fibre to the home connection to deliver two connections as easily as one, i.e. 20 Mbps of fixed capacity for connecting devices like a TV or set-top box, and a more variable throughput service for general Internet access. The original HomeChoice VoD service would reserve 2 Mbps, but this meant that Internet access was heavily restricted on ADSL services when it was around a few years ago.
Comments
Post a comment
Login
Register