Devon and Somerset signs broadband contract with BT
Thursday, January 31, 2013 9:19 AM
Residents and businesses of Devon and Somerset that have so far missed out on superfast broadband from the usual candidates can now look to forward to the start of actual delivery of services via the BDUK project for the area. The signing on the 29th January at County Hall in Taunton, Somerset means survey work will start immediately and the first wave of upgrade locations should be announced during Spring 2013.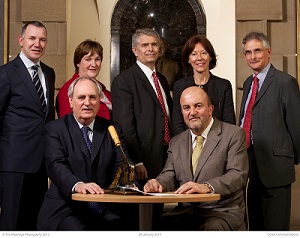 Click image for larger version
The Connecting Devon and Somerset project has a total fund of £94 million with the aims of providing FTTC or FTTP based broadband to 90% of premises by the end of 2016 and a minimum of 2 Mbps to all other premises. BT is contributing £41 million, with each county council adding £10 million on top of the £32 million from the central BDUK fund.
"Breaking down the rural broadband divide will give our residents, communities and businesses opportunities that they've only been able to imagine up till now. Fast and reliable internet is becoming more important to daily life and going online will soon be the only way to access some key public services. Superfast and improved broadband will help us to strengthen our economy, grow and develop our businesses while enhancing community activities. This is an important milestone for all who live and work in our region."

Councillor David Hall, Deputy Leader of Somerset County
The roll-out follows the usual pattern of predominately being FTTC based, but there is the promise of some pure FTTP areas in addition Fibre on Demand being available in FTTC areas as of Spring 2013.
"This is a project of huge significance to businesses and local communities across Devon and Somerset. "Superfast Broadband will enable even our smallest businesses to compete on a level playing field with other companies nationally and internationally. That means Devon businesses can expand without having to relocate and benefit from improving productivity. It'll mean a big boost to our economy and the creation of new jobs as firms take advantage of their new-found competitiveness. And families in rural areas will be able to enjoy all the benefits of our digital age, such as downloading films and music, which have so far been denied them."

Councillor John Hart, Leader of Devon County Council
Readers with long memories may recall Bath and North East Somerset opting out of the BDUK process in 2011, but this council is now part of the Connecting Devon and Somerset project.
Comments
Post a comment
Login
Register