Results from EU Referendum Poll
Wednesday, January 30, 2013 1:48 PM
The question of whether the UK remains in the EU was raised by the Prime Minister when he pledged a referendum on the matter in 2017, assuming he remains in power after the 2015 General Election.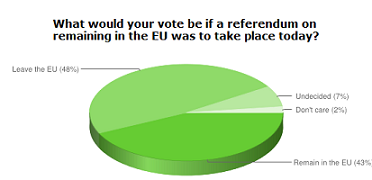 Click image for larger version
We asked our visitors two questions over a period of seven days and had over 1,700 responses with 43% voting that want to remain in Europe and 48% saying that they would vote to leave the EU. This near even split suggests that the conflicting (at least those interested in broadband) views of the politicians are reflected by the public. With the EU based Digital Agenda 2020 broadband targets we felt it was important to ask whether people thought the UK had benefited in terms of its broadband services by being in the EU.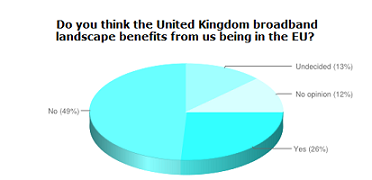 Click image for larger version
This result was much clearer with only 26% voting that there was a positive effect. This might be expected as the larger amount of funding from the Connected Europe Facility has not started to be handed out, though there are plenty of projects which are benefiting from EU funding, both large and small.
While it is clear that a lot of people do want out of the European Union, even if we vote to leave in 2017 there is still of lot of useful information to be gained from our nearest neighbours in terms of broadband and particularly looking at what happens across Europe. The FTTH Council EU has a raft of case studies that allow us all to see what is happening in various projects across Europe, the two closest to home being KC Lightstream in the Hull area and JT in Jersey. One interesting case is Latvia which also features well in FTTH league tables where the incumbent using a 10 year ROI model starting in 2009 by June 2011 had a takeup rate of 67.7% (357,485 homes subcribers) from a network footprint of 528,261 homes and was deploying FTTB at the amazing rate of 420 apartment blocks a month.
The FTTH Council EU Conference that is now just three weeks away provides an opportunity for those building fibre networks and potential investors to learn a lot more about FTTH and FTTB solutions and the workshop day on 19th February includes a fulls day programme on the investment side. Registration for the workshops and conference is open now and we have a special 20% discount off the normal online registration fee of €493 + VAT (includes a €3 green donation).
Comments
Post a comment
Login
Register