Celebrations at TalkTalk and big questions at Orange and EE
Wednesday, December 19, 2012 10:23 AM
While Ofcom does not deal with individuals complaints it does log them and by monitoring them they assess whether there are major issues that need to be addressed by regulatory intervention. The latest set of data on telecoms and broadband complaints shows that Orange was the most complained about provider in August and September 2012. The reason for the large spike is believed to be customers contacting Ofcom over the ending of the free broadband for Orange mobile customers.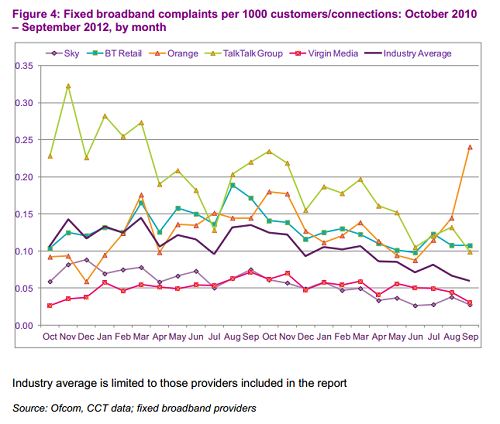 Click image for larger version
TalkTalk is usually the provider that everyone assumes is the worst, but the trend is that they are approaching the industry average and are currently running very close to BT in terms of the number of complaints per 1,000 customers.
It is difficult to be certain but EE (formerly Orange) there does appear to be getting more problems with slow broadband speeds due to capping, which is odd as it is a BT Wholesale based service and similar volumes of complaints do not show up for other providers on our forums, this may be less about the automated systems but more about the parameters that the people running EE support try to impose.
Comments
Post a comment
Login
Register