BT brings £20m to the table as Herefordshire and Gloucestershire contract signed
Monday, December 17, 2012 12:20 PM
BT was announced as the preferred bidder for the joint BDUK project between Herefordshire and Gloucestershire and the actual contract has now been signed in a suitably rural location.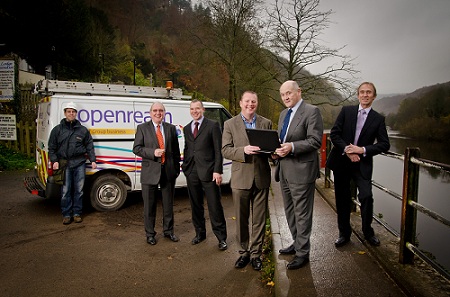 Click image for larger version
The project to bring superfast broadband to all who want it in the two counties by 2018 is worth £56.6m, of which £20.9 million is from BT and £18.17m from the central BDUK fund. The project is running with two major milestones:
End of 2016 - 90% of homes and businesses to have access to FTTC or FTTP, and all remaining premises to have access to a 2 Mbps service.
End of 2018 - All those who want a 24 Mbps or faster connection will have access to one.
The BDUK target is March/May 2015 for the 90% and 2 Mbps USC, so it is refreshing to see a project be realistic about what it can deliver in the time scale. Also it shows that while those in the 10% of areas that do not see a superfast service immediately that ongoing work will take place to improve things.
The roll-out follows the usual pattern of a FTTC centric solution, but the release does promise areas with FTTP in addition to the roll-out of the fibre on demand product in all FTTC area.
Now that the official signing has took place, the planners can get on with the job and hopefully actual delivery work will commence in the second half of 2013. For the 140,000 homes and businesses set to benefit there will be a where and when type website that will appear in the New Year.
Comments
Post a comment
Login
Register