European broadband coverage summary for 2011
Tuesday, November 27, 2012 1:06 PM
Point Topic working for DG Connect as part of the Digital Agenda for Europe collated data from all the European countries to produce a definitive summary of where broadband and next generation broadband services stood in 2011 across Europe.
"Despite all the publicity, FTTP doesn't offer the main route to digital heaven, at least not for the time being. So far FTTP covers only 12% of homes. The biggest providers of superfast service are the cable TV networks which can now reach 37% of EU homes with the up-to-date Docsis 3 standard."

Tim Johnson, Point Topic's Chief Analyst
Of course back in 2011, the UK figured as a zero percent for FTTP, but as numerous fibre projects in the UK get moving the data for 2012 should be a bit better, fingers crossed getting a 0.1 or 0.2% entry for the current year.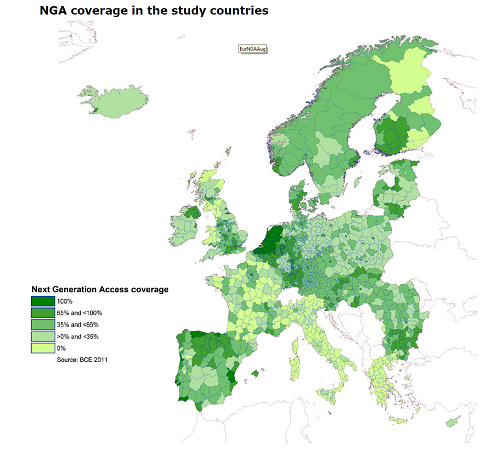 Click image for larger version of infographic
Looking at the European map you can see that in terms of land mass and NGA coverage the UK does not look that different to many other countries. The main exception being the Netherlands, which has led the way with fibre based broadband.
With all large reports it is really only possible to look at a small snippet, but as we know that in the UK NGA coverage in the cities and urban areas has increased significantly in 2012, we will instead look at some of the information from 2011, and compare the UK with its major competitors.
Rural coverage by technology for each country in 2011
Countries
DSL
VDSL
FTTP
WiMAX
Standard cable
Docsis 3 cable
HSPA
LTE
Sat
France
96.3%
0%
0.3%
0%
39.9%
28.2%
87%
0%
100%
Germany
51.4%
0%
0%
11.5%
2%
2%
30.7%
41%
100%
Spain
90.1%
12.6%
0.4%
7%
0.4%
0.4%
88%
0%
100%
Sweden
84.4%
7.2%
9.4%
0.1%
1.7%
1%
98.8%
13.9%
0%
United Kingdom
100%
17.4%
0%
0%
2%
2%
88.5%
0%
100%
Cue the uproar, from those annoyed at seeing the UK listed as having 100% coverage of DSL services. The report covers this issue and highlights the difficulty of comparing countries that have their own ways of defining different services.
"Defining coverage caused more difficulty than defining technology. Considering DSL, for example, in many countries any household in the service area of a DSL-enabled exchange is defined as having DSL coverage. It is not hard to report 100% DSL coverage on this basis. On the other hand, as any country-dweller knows, distance from the exchange is also crucial in determining the speed available on a DSL connection. German statistics recognise this by defining DSL coverage as having a minimum 1Mbps download speed available. The result is that Germany reports relatively low DSL coverage but the figure is more meaningful from the end-user's point of view."

Extract from report explaining coverage
The country with the highest coverage of FTTP in 2011 for rural areas was Denmark at 12.4%, and shows that while the plans for the final third in the UK are often heavily criticised, it is just not rural areas of the UK that suffer from a digital divide.
So what does the report tell us? Mainly that the EU which has €7 billion to spend on meeting its EU 2020 goals may be half way there, but it still has a lot of work to do and the real question over the next couple of years as commercial roll-outs reach their conclusions across Europe is how will be the money be assigned to each country and the projects managed. It would be very ironic if the UK and its often criticised BDUK model, of a central clearing office with responsibility divested to the local authorities was repeated, with the DG Connect/EU acting like the BDUK and each country effectively becoming the local authority.
Comments
Post a comment
Login
Register