Superfast Cornwall to increase awareness of new broadband options
Friday, November 23, 2012 1:20 PM
With most of our visitors probably already convinced of the benefits of superfast broadband, it may seem odd for Cornwall to have to advertise that a superfast broadband service is widely available across the county.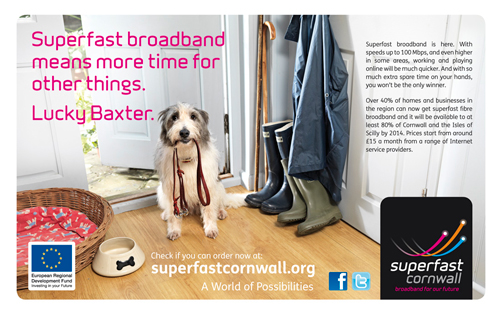 Baxter, the lucky dog who gets to go for walkies more now that superfast broadband has been installed in his owners home.
Click image for larger version of letter
The new campaign has started at the point where 40% of the premises in Cornwall can access superfast services via the £132m project, with work continuing to increase coverage to 80% of Cornwall.
One of the conditions for projects like Superfast Cornwall and the other local authority projects across the UK is that demand stimulation activity takes place to promote the service. This activity is particularly important for areas where broadband speeds are less than perfect now, as after a few years of people seeing no change they may have simply assumed from the doom and gloom coverage broadband sometimes receives in the press that nothing is happening for years to come.
In addition to this sort of provider agnostic advertising Superfast Cornwall also has grants available for businesses in Cornwall to help them grow and make the most of the broadband options.
Comments
Post a comment
Login
Register