Broadband promises - public does not believe the politicians
Wednesday, November 21, 2012 11:00 AM
Back in June 2009 when the Digital Britain report was originally published there was a sense of optimism for broadband, but while great strides have been made it seems the public still need lots of convincing. In our most recent poll we asked our visitors to vote on whether they think Labour would have actually met its 2012 deadline for 2 Mbps to be available to virtually all households in the UK.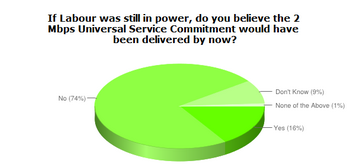 Click image for larger version of letter
The above chart is based on over 1,400 responses to the poll, and it clearly shows that the weight of opinion is that if Labour had won the 2010 General Election, people believe they would not have met the 2012 target (74% saying they would have failed to meet the target, and only 16% believing they would).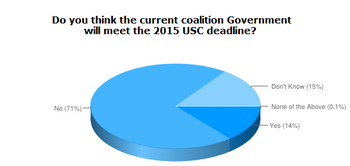 Click image for larger version of letter
The weight of pessimism amongst public is revealed when asked about the current 2015 target for the USC, that is being run by the BDUK which was originally formed by the Labour Government and has had its goals re-arranged by the current coalition. The coalition has only 14% of those responding believing the 2015 2 Mbps target will be met, and that is with the 90% of UK households been able to access broadband at 2 Mbps (satellite services are excluded from this statistic), which is actually less than the 16% who thought Labour would actually deliver.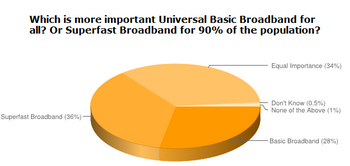 Click image for larger version of letter
The final question in the poll, reveals a much more divided opinion with the balance going towards superfast broadband (36%) being the most important goal from the current BDUK projects (34% believe basic and superfast are of equal importance, 28% favour the basic broadband target as the most important). There have been numerous reports calling for ubiquity of broadband access to be the main goal for any broadband projects, but this final question shows that while 28% feel that way, superfast services, or the current dual-focus approach are preferred.
Beyond the economic situation in the UK, perhaps the biggest reason behind the pessimism is that people have heard of better broadband coming to the final third of the UK for three years, yet very few have seen any actual evidence of this happening. Now the BDUK has the blanket EU State Aid Approval we may see projects picking up pace. We also need those responsible for projects to stop posing in front of tractors, or talking of rural broadband, the projects cross the boundaries between green fields and views of other cloned housing.
Comments
Post a comment
Login
Register