Selling FTTH project enters uncertain period
Monday, November 19, 2012 3:12 PM
Kent County Council has made a number of grants over the last few years to help community groups get better broadband to their part of rural Kent. The grants were up to £50,000 and were intended to pay the provider's infrastructure costs.
Selling was one of 16 or so areas that applied and obtained a grant, and to our knowledge was the only one to elect for a full fibre to the home (FTTH) solution. Roll on three years and the situation is that 38 homes now have a live service, with the actual fibre passing perhaps 100 in total (passed is defined as the final gap of 10 to 20m into a property is not connected). The original aim we believe was to connect around 300 properties to the network. Alas it would appear in a letter to the residents and Selling Parish Council in October 2012 that Internal Communications Solutions Ltd decided that they they had invested more than they could afford too in both time and money.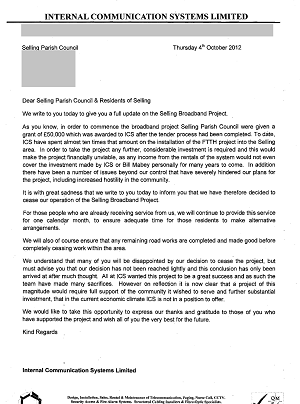 Click image for larger version of letter
The letter indicated that the network would continue to operate for one more calendar month, and certainly as of 15th November there are people still using it. How long this situation will continue is unclear, this very much hinges on finding an operator willing to take on the network. Notes from a public meeting reveal one hurdle to this take-over which may be that the fibre network is not owned by the community but ICS, who one assumes will want paying for the asset.
Residents who are enjoying the service had two tiers of service, a basic 20 Mbps service with 10GB of usage allowance and VoIP for £34.99 per month, a faster 80 Mbps unlimited product was available for £42.99 those who did not signup in the early stages of the project would also have to pay a £280 installation fee. The price may seem high, but this was an area getting under 1 Meg from copper based services previously and the fibre service did not require people to pay for a copper voice line rental. The fibre network was linked to the Internet via the KPSN at the local school with this link costing £12,000 apparently, no information is available on what the on going annual costs for this link are. There is little information on the size of the link, but it seems contention may already be an issue at peak times if talk of speeds dropping from 20 Mbps to 9 Mbps are correct.
As can often happen with projects at a local level unless 100% of people are onboard, the push and pull of personalities and decades old prejudices can cause problems, with tales of wayleave issues, break-ins and kidnapping of ducting littering the Internet.
We contacted ICS about the ceased operation, and other than confirming that a service was currently being provided, requests for information on possible further installs/work was met with Regretfully at this stage I am not at liberty to discuss the project with third parties'. We also contacted the Selling Parish Council who declined to comment.
So for now the challenge is to get the network adopted by another provider, otherwise it may be the case that Selling may have had a taster of the future and see it vanish. Attempting to be at the cutting edge is never easy and while many will be critical of the big telecom's operators for ignoring the area, the question is what makes Selling different to the other thousands of small rural communities that offer little in terms of commercial return?
In theory the BDUK project offers some hope, but Selling does look to be firmly in the most rural 10% of the UK, and thus may be more reliant on attracting funding from the RCBF, but this has just £20m to part fund projects across the whole of the UK.
Kent County Council when the BDUK money, match funding and commercial investment is combined will have £43m to spend on getting superfast broadband to 90% of homes and businesses in Kent, with a lower minimum speed of 2 Mbps for the remainder. Early projects from the BDUK suggested that Kent had 279,000 premises that would not get superfast broadband via purely commercial projects, which brings £43m into sharp perspective as this is just £154 per premise, the Selling project has spent around £5,500 per property passed.
Comments
Post a comment
Login
Register