Are you middle of the road or enlightened?
Tuesday, November 13, 2012 5:19 PM
Tired of just calling yourself a geek, then take a look at some new Ofcom analysis that allows us to categorise ourselves and friends according to how we use the Internet and other communication services.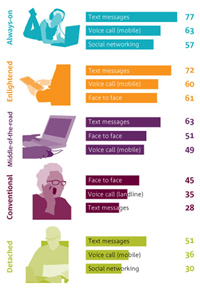 Click image for larger version
These categories are based on data from the Ofcom Communication Market Report and while not everyone will fall neatly into the various pigeon holes, people may surprise themselves if they evaluate where they stand.
A lot of coverage on areas to do with the Internet claim that young people know everything about it and use it all the time, and the Ofcom analysis does support this to some extent, with the Always on group which comprises 22% of adults being the youngest, where half were actually under 35 years old. While this might make people think that digital inclusion work needs to be aimed at those the other end of the age spectrum, it should be highlighted that the Detached group which made up 16% of adults actually covered people of all ages.
The Oxford Internet Institute with backing from the Nominet Trust, recently published some research into the issue of Digital Choice or Digital Exclusion among young people. Which for anyone involved in digital inclusion schemes should be required reading.
"Our study suggests that young people outside the digital mainstream often have poor Internet skills and display a remarkably low range of things they can do online. Many of the lapsed Internet users whom we interviewed did not know some of the most basic things, like how to attach a document or a picture to an email, or how to download and save an online document, for example for a job application, onto a computer. The young people also showed a lack of understanding of the range of things that are possible online, and where to ask for help."

Extract from Report on Understanding Internet Use Amongst Young People
If we ignore the younger digitally excluded portion of the population these people will find themselves stuck in a viscous circle that excludes them more and more from society. Additionally by having a portion of society excluded, the government aims to move almost all interaction with social and government services online may not generate the savings hoped for.
Comments
Post a comment
Login
Register