Evening latency rises point to problems with Virgin Media again
Wednesday, November 7, 2012 1:36 PM
Running a broadband provider and having zero faults is an impossibility, but recently Virgin Media appears to be having more than its fair share of problems.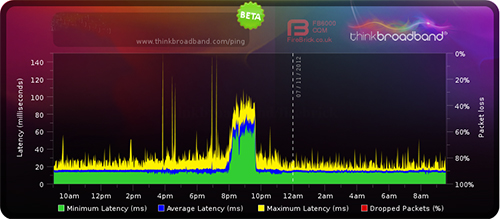 Click image for larger version
The BQM picture above shows the problem users are experiencing, and while with many providers it is not uncommon to see the yellow area increase in width at peak times, seeing the large rise in the green area (minimum latency) is a clear sign of a problem. This can be down to an individuals link for, or congestion at a local node or when in the case of this latest problem it appears to be affecting many people running our BQM tool, it points to a provider or peering issue.
ISPreview has a link to a discussion thread on Virgin Media's own forums where people are discussing the problem, and many more BQM graphs can be found. There does not appear to be any packet loss at this time, so hopefully video streaming and web browsing will still be ok, but online gamers who want to remain sane would be advised to avoid the hours between 8pm and 10pm currently - unless they fancy some old school dial-up type lag.
Our BQM tool is free to use, and works by sending a small ping packet periodically to your broadband router, and plotting the response times. Many consumer routers (including Virgin Media Superhub) have the ICMP/ping response disabled, so we have a FAQ showing what you need to change for common routers. For those with a BT Home Hub you cannot use the tool, as ping (ICMP echo) responses are disabled in the home hub firmware, breaking a very useful and common diagnostic tool that is older than web browsers.
Update: There's a useful site showing a number of BQM graphs from Virgin and other providers you can view here
Comments
Post a comment
Login
Register