4G finally live in UK but will people upgrade?
Tuesday, October 30, 2012 1:03 PM
The teasing is finally over, if you are keen you can go into an EE store today and walk out with a 4G enabled handset. We have finished a quick poll that we started just after EE announced its 4G tariffs for the UK, and with the service going live in a number of cities today we are publishing the results.
The poll attracted over 1250 respondents and in some way backs up what executives at EE have been saying about data usage, but also reveals that while there is often rushes to buy the latest and greatest hardware, people may not be rushing to sign up to EE.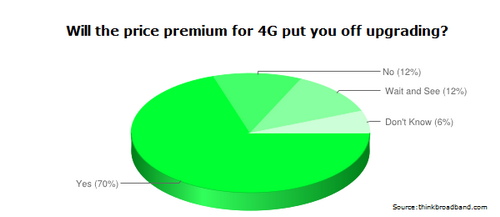 Click image for larger version
It would appear that there is just 12% of people for whom the EE pricing is not a stumbling block, with another 12% playing the wait and see game, which probably means they will wait and see whether competition in 2012 brings down the price to match the 3G pricing.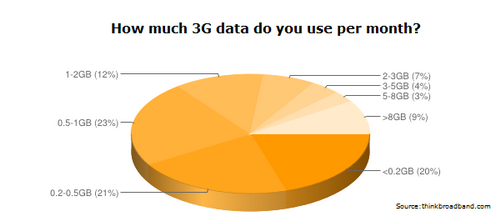 Click image for larger version
The data usage profile very much matches what EE has said while justifying its new packages, that the majority of its users do not use much data, hence the relatively low levels in the packages, and that the majority do not need an unlimited mobile data package. What the marketing people may have missed is that many are likely to sign up to an unlimited service so that the one week a year when they use a lot of data they do not have to worry about extra costs.
4G offers very little extra compared to 3G, apart from the faster headline speeds and possibly lower latency, so one presumes those who are signing up will probably do more when out and about, and a 30 minute High Quality show on BBC iPlayer Mobile can be 300MB in size, so those looking to enjoy video on the move may have to accept the lower quality streams, i.e. no better picture than their old phone and 3G network.
The costs of mobile data are not just a UK problem, 3G tariffs in the UK appear amazingly cheap to most US consumers, particularly the availability of unlimited options, though given what EE has said recently these may soon that to vanish in the UK. Into this world market where 4G is seen as the luxury network option, means that Google has not actually added 4G LTE support to its flagship Nexus 4 mobile phone. Google has included HSPA+ which the major 3G networks in the UK support and where available in theory can provide a 42 Mbps connection.
While we often point out that the excess data costs on 3G and now 4G are somewhat exorbitant, meaning that if outside your data bundle it would be cheaper to goto the cinema that watch a HD film from the Google Play or iTunes store, it appears that among those taking part in our poll a massive 87% claim to never exceed their allowance in a year, and only 5% go over their limit 3 or more times in the course of a year. Part of this could be attributed to people on pay as you go where you often get extra data allowance by topping up on calls/text allowance, but with just 13% of those in the poll on a pay as you go tariff this is not the case.
The bubble that was the idea of 4G being a major component of a Digital Britain appears to be deflating, it has not totally burst, as the EE pricing may be high due to exclusivity and competition may lower it. If the mobile operators are keen to be seen as an alternative they need to ensure that data allowances roughly in line with fixed line services are available and at a price where people are not constantly rationing their usage.
Comments
Post a comment
Login
Register