New Sky Hub promises better wireless connectivity
Monday, October 15, 2012 12:23 PM
The existing Sky Sagem 2504n routers are now last years model, as Sky has launched a new device that is promising better wireless coverage for ADSL2+ and fibre services.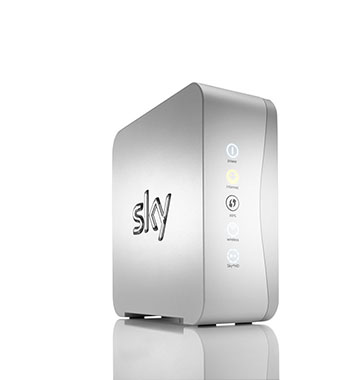 Hub is ~15cm high (Click image for larger version)
The new Sky Hub will be supplied to all new Sky Broadband customers from 18th October, and existing customers wanting to upgrade will have the option to buy one for £39 (plus £2.18 delivery - price rises to £69 in three months time).
Other than looking very different to the exist model the main changes are that the new hub includes 2 MIMO antenna supporting a single 802.11n WiFi certified channel and has dynamic wireless channel hoping to try and avoid interference in the crowded 2.4GHz spectrum. Unlike most consumer routers that use a power brick the power supply is built into the router which is based on a Broadcom 6362 chipset. The four port Ethernet switch is apparently still only a 10/100 device, which with Gigabit Ethernet becoming more common on home networks is a bit of a disappointment, as is the lack of 5GHz wireless.
The same router will be used on the Sky Fibre services, with the ADSL2+ port being disabled and one of the LAN ports re-purposed as an Ethernet WAN port. We are endeavouring to get hold of a review unit, so we can test the wireless speed and coverage claims and delve deeper into the various configuration options of the hub.
Comments
Post a comment
Login
Register