2012 Olympics and its impact on Internet traffic
Friday, September 7, 2012 10:12 AM
The UK Internet has survived the major events of London 2012 contrary to some newspaper headlines that appeared in the run up to the Olympics and Paralympics. A large part of this will be due to the unprecedented level of coverage on the multitude of broadcast TV platforms, and Channel 4 has increased its hours of Paralympics coverage too.
RIPE started producing information on the effect of major events with the European Championship earlier this year, and has now published data from during the Olympics. So for example on a normal Friday throughput at LINX will be around the 1000 Gbps ( 1 Terrabit per second) level between midday and 10pm (a dip between 4pm and 6pm seems normal), during the Olympics opening ceremony traffic levels showed a significant drop, as people stayed and watched the coverage on the BBC.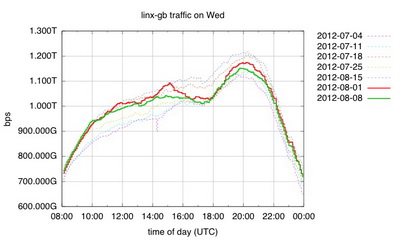 Click image for larger version
The graphic above shows a very different effect, and what can happen when a major sporting event takes place during office hours. Bradley Wiggins winning Gold in the cycling time trial resulted in a blip of around 60 Gbps in the traffic levels at LINX, but still below the usual evening peak for a Wednesday which can see LINX carry almost 1.2 Tbps of traffic.
In the past major sporting events have been timed to fit in with TV schedules among other things, perhaps in the future there will be consultation to ensure that Internet exchanges around the world are prepared. Scheduling is also very important for things like the releases of major updates to software and games, particularly as due to the High Definition textures a game update can easily be over a GigaByte in size on a console, and as tablets and smartphones go HD game patches for these are expanding to approach this size.
Comments
Post a comment
Login
Register