BDUK performance drawn into question, by latest poll results
Friday, September 7, 2012 12:49 PM
Hardly a day goes by on our forums when someone does not ask when better broadband services will coming to their area, and more often than not the person is not aware that their local authority has been given responsibility to deliver a plan to meet the BDUK aim of 90% of the UK having access to superfast broadband by 2015.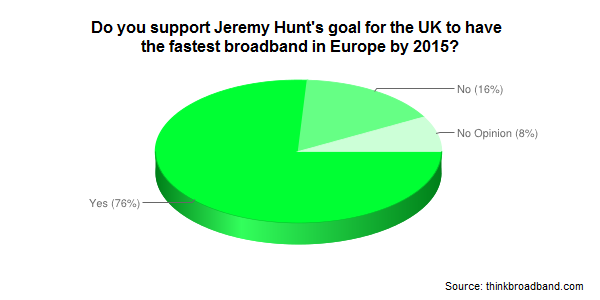 Click image for larger version
This lack of information led us to run a poll, to see how bad the level of information reaching the public was, and also what people thought about the recently stated aim for the UK to be the fastest major European nation in terms of broadband speeds. The polls make for worrying reading, if you are involved in any of the current broadband projects, and reveal a lot more work needs to be done to get the public on board.
Our poll attracted over 1150 responses, and provided very distinctive viewpoints, while 76% of respondents support the goal for the UK to be the fastest in Europe, a very small 5% actually believe the current BDUK projects will deliver to meet this goal. The question now is whether Maria Miller MP who is the new minister in charge of the Department of Culture, Media and Sport will be able to exert influence on the BDUK and local authorities to improve project targets so that we do become the fastest in Europe in 2015.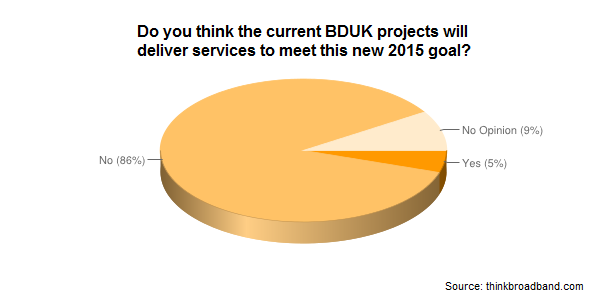 Click image for larger version
When looking at how well local authorities, or in the case of Wales and Scotland their respective Parliaments have communicated their plans, only 2% rated the communication as excellent, a further 9% as simply adequate. 30% were able to find information about their areas broadband plan, the worrying slice is that 51% stated that there was no visible plan. Given that authorities are spending council tax money on the project, and one of the key parts of the project is to measure demand for better broadband one would have expected much better visibility of their plans.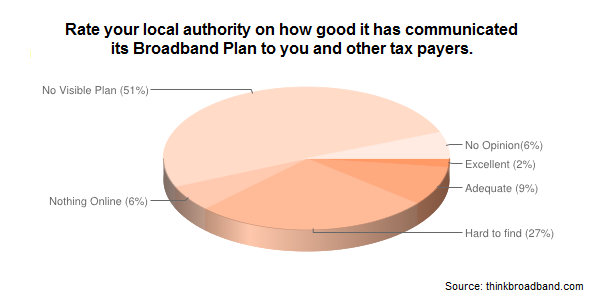 Click image for larger version
To those who have followed the Digital Britain plan from the days of the original report in 2009, the lack of information and visible progress for the projects is of no real surprise. Those familiar with government procurement projects will also point out that delays due to procurement rules and state aid checks are perfectly normal. The problem we see is that as every month passes and no BDUK project has delivered a connection, means one month less to deliver a decent solution.
Many broadband campaigners are calling for a greater emphasis on full fibre (FTTP) connections in the BDUK projects, to future proof the communications in an area for perhaps 20 to 30 years. In our poll, 71% of people support the spending of more public money to ensure high levels of FTTP availability, and also take-up. A major cost in rolling out FTTP is the civils involved, i.e. trenching, installing fibre tubing, and as such money invested in a bigger FTTP roll-out could be seen as investment in providing employment, and not just about improving broadband speeds.
Comments
Post a comment
Login
Register