Asus EA-N66 Wireless Gigabit Ethernet Adapter Review
Monday, September 3, 2012 11:18 AM
Our review of the Asus EA-N66 Wireless Gigabit Ethernet Adapter is now online in our router review section, with reviews of more hardware coming in the next few weeks too.
The Asus EA-N66 is a device that can help extend your existing wireless network around your home or place of work, or just simply be used to connect your Internet enabled TV to your home broadband connection, without having to run lots of cables around the house. It has 2.4GHz and 5GHz support and compatibility with IEE 802.11a/b/g/n wireless standards. The Wireless Ethernet Adapter supports three modes of operation:
Ethernet Adapter Mode
Wireless Access Point (WAP) mode
Wireless Repeater Mode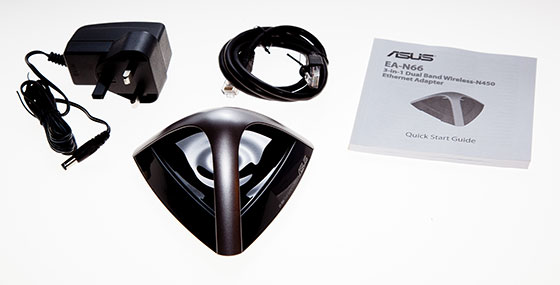 Click image for larger version
We carried out extensive testing of the wireless performance in its three modes, and also dismantling the device so you see what makes it tick. All that is missing to make the EA-N66 the wireless range extender for all occassions is a battery pack to attach to its underside.
Comments
Post a comment
Login
Register