Geeks require speed: Fibre-to-the-tent at EMFcamp
Wednesday, August 8, 2012 8:14 PM
EMFcamp is a volunteer-run event taking place at the end of August and hundreds of attendees will descend on a field in a Glastonbury-style festival for geeks, but rather than music being at the centre of the festival, talks by participants alongside workshops are planned to take place during the three day event.
Setting up the infrastructure for any event of this size is considerable to ensure visitors are able to enjoy the experience and the camp is being run by a group of volunteers willing to give up their time. As most events attended by such a bandwidth hungry community, Internet connectivity is important and the team has been busy planning how to provision some of the fastest Internet connectivity in the country to a field for just a few days.
The camp infrastructure is being powered by a 1Gbps circuit from Telehouse Docklands over to a datacentre 3km away where it will be linked back to the camp site over dual microwave links. This is then redistributed across the site over a dark fibre network being laid specifically for the event and attendees will be able to connect over wireless connections, or get fibre-to-the-tent (do we call that FTTT?), although in reality most of the connections to tents are likely to be 50 metre copper cables, but considering how 'fibre broadband' isn't always full fibre, we'll let that one slip. This means that each tent is expected to receive a symmetric 100Mbps service, and although the 1Gbps links will be shared across up to 500 attendees, it means you are likely to get one of the fastest broadband services in the country, particularly in terms of upstream speeds.
To house the networking equipment and power distribution infrastructure (laptops need power), dedicated portaloos will be used to keep equipment dry even if the British summer doesn't last until then, housing one of dozens of Cisco switches and wireless networking adaptors: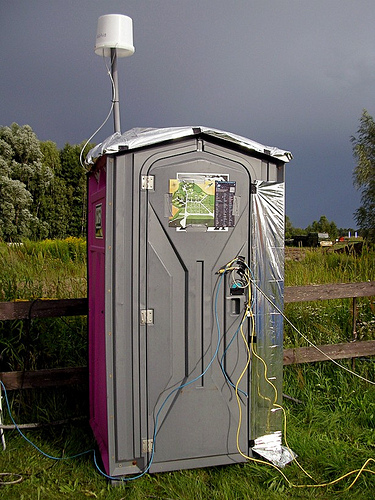 EMFcamp will run from Friday 31st August until Sunday 2nd September 2012. The exact schedule will be announced soon, but the provisional list of talks and workshops is available and includes a number of interesting items from lock picking to learning how to weld. Tickets are now available for £95 each, although day tickets and discounts for childrem are also available.
Comments
Post a comment
Login
Register