OECD Broadband Statistics reveals UK still not the best
Thursday, July 19, 2012 11:03 AM
We may not be at the top of the charts but the take-up of broadband in the UK has improved moving us from 9th position in the world to 8th. The OECD has published its annual raft of statistics, the data is a little out of date - from September and December 2011 - but getting the data from the many governments and regulators takes time. We should highlight that the small amount of fibre shown for the UK is because VDSL2 (FTTC) is aggregated into the DSL figures.
Click image for larger version
The UK may have a minuscule amount of Fibre/LAN subscriptions compared to Korea and Japan, but if the deployments by firms like IFNL, FibreCity, Ask4, Hyperoptic, and Openreach (which is still trialling its MDU service (FTTB)) continue, we will start to catch-up. Another metric that can be used to compare different countries is what speeds of broadband are advertised and as the chart below shows, the UK is lagging at 34,444 Kbps below the OECD average of 41,009 Kbps. The median (most common value) figures are interesting to look at, with the UK fractionally beating Japan; the large disparity in Japan probably being Gigabit services skewing the average, while many services are actually still advertising ADSL2+ type speeds.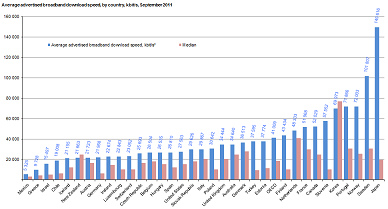 Click image for larger version
The area where the UK generally wins is on the price of services, and the OECD has published the price per Mbps in the surveyed countries. The UK is not the cheapest, we are in the middle of the pack, but our highest price per Mbps is the lowest compared to all but two other countries (Korea and Denmark). This narrow price range reflects the level of retail competition in the UK, and how price sensitive UK consumers are.
In theory the UK should be climbing the various metrics as alt-nets, Openreach and Virgin Media all upgrade networks or roll-out new faster services. The question really is how much faster we can achieve this than other EU countries if we are to make ourselves best in Europe. The relatively small dark fibre deployment in Birmingham and what other UK cities are planning are part of the larger plan to ensure the UK is seen as leading the pack.
Comments
Post a comment
Login
Register