TalkTalk still tops Ofcom broadband complaints chart
Thursday, June 28, 2012 11:52 AM
Ofcom has been publishing data on the number of complaints it receives for varying services for some time, and the latest quarters figures allow us to view the trends in terms of complains for broadband from October 2010 through to March 2012.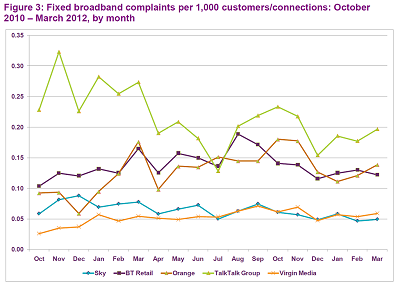 Click image for larger version
The last quarters results were very positive for TalkTalk and others as the general trend was down, but in the last three months the level of complaints has risen for all the providers. BT may have turned a corner as a small drop was seen between February 2012 and March 2012. The rise for TalkTalk will be dissapointing to that group, as a few months ago it had been on-target to have similar levels of complaints compared to the other major providers.
While many consumers are complaining to Ofcom, since Ofcom does not resolve individual end-users complaints, those complaining may see no change in their situation. Also it is possible that the lower level of complaints to Ofcom from some providers may reflect a better ability to deal with complaints in house. The Ofcom report does not break down the complaints into categories, but simply hints that with TalkTalk the issues are often about line fault issues and other service issues.
In the telecoms arena, Ofcom receives around 300 complaints per day, though it is hard to judge this against complaints other industry regulators receive as Ofcom believes they are the only one to publish complaints data.
Comments
Post a comment
Login
Register