Broadband Universal Service Commitment, 9 out of 10 disagree with the Government
Tuesday, May 8, 2012 9:37 AM
In an attempt to put some numbers behind the common moan that the UK Government's target of '2 Mbps for all' is not ambitious enough we ran a poll asking visitors what speed they think should be guaranteeed as part of the Universal Service Commitment.
The result indicates that the vast majority of people view the 2 Mbps target as being far too slow, and the fact that the same question asked in 2009 resulted in similar results, shows how out of touch policy-makers are with what users expect from broadband services. 31.9% of those responding to the poll voted for 20 Mbps to be the guaranteed speed in 2015.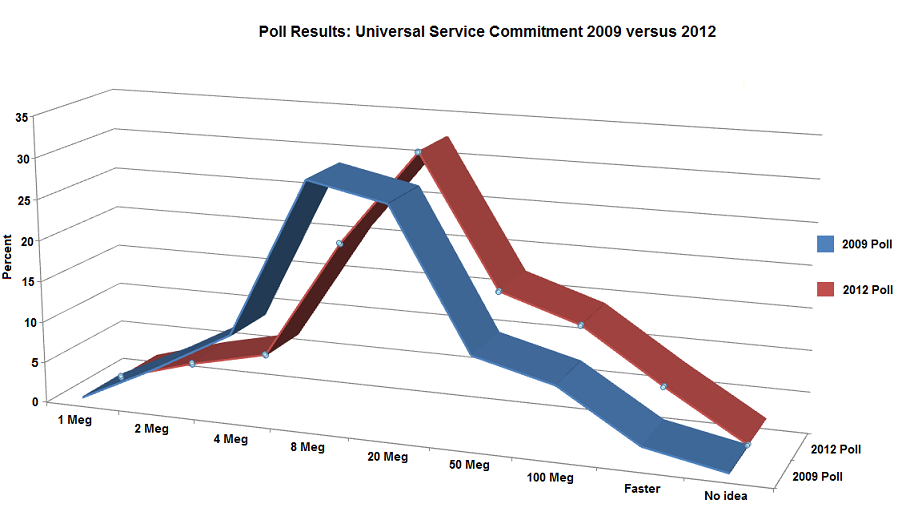 The poll received over 2,400 responses, and as the graphic above shows the spread of choices is very similar to three years ago. There has been a small shift towards people wanting the guaranteed speed to be faster, but given that around 28% of UK households have access to FTTC via Openreach, and 48% of the UK have access to the 30/60/100 Mbps services from Virgin Media, one might have expected an even higher level of expectation.
The full results and percentages from the poll are on our broadband blog. 75% responded that they would change broadband provider to get a service that met their desired speed, though they were not necessarily prepared to spend a significant amount more each month to do so, with over a third not willing to spend any more.
The answer from the public seems to be clear—those areas where only the basic 2 Mbps USC will be met will be viewed as still behind the times, and the USC target date is exactly three years away. Some local authorities may manage to provide speeds better than 2 Mbps to those in the final 10% of UK households, but the desire for speed is clear.
There has been a small almost unannounced shift in the superfast broadband targets for BDUK projects promoting the 'faster than 24 Mbps' target for 90% of users which the EU is talking about. The National Broadband Scheme document (dated 20th March 2012) now states that projects must target speeds of 30 Mbps or more as the definition of 'superfast'.
"A local broadband project will be covered by the scheme provided it:
4.1.1 seeks to deliver following primary objectives:


To provide as many homes and businesses in each local authority area in the UK as possible with access to NGA infrastructure capable of delivering superfast broadband speeds (meaning speeds of 30 Mbps or in any event more than 24 Mbps);3 and
To ensure everyone in the remaining areas in the UK has access to minimum broadband speeds of at least 2 Mbps (the universal service commitment);

3All new projects must target delivery of superfast broadband speeds of 30 Mbps or more, which is in line with the EU's superfast/NGA broadband targets. However, due to earlier UK definitions of superfast referring to speeds of more than 24 Mbps, projects already underway will be satisfying the superfast broadband speed requirement if they seek to deliver speeds of more than 24 Mbps."

National Broadband Scheme for the UK: Supporting the local and community roll-out of superfast broadband
It is expected that the 'basic' 2 Mbps broadband services should cost no more than £100 to install and the recurring cost should not exceed £25 per month to ensure that the service is truly accessible. This of course is significantly more than some of the cheapest broadband services available in cities today.
Comments
Post a comment
Login
Register