Late UK entry into consumer fibre networks highlighted by FTTH Council
Friday, February 17, 2012 11:42 AM
The UK may have missed the first half of the party, but hopefully if Openreach can scale its FTTH and FTTB roll-outs in the next 12 months, we may figure on the FTTH Councils' Annual Global Ranking of FTTH countries in 2013. To get onto the chart needs at least 1% penetration, which for the UK will be something like 220,000 signed up to a fibre to the premises or basement/building service.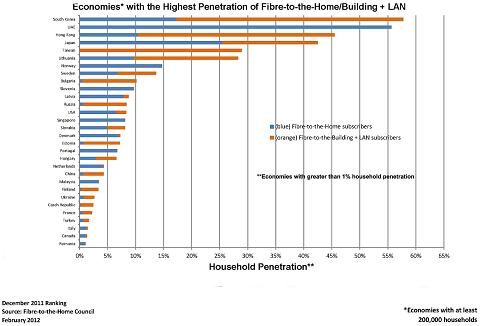 Click image for larger version
Canada has only just crept into the chart with 1.24% of the total households connected using fibre. Seeing South Korea at the top of the chart is no surprise, but the actual penetration of full fibre is setting at 17%, the more popular solution being fibre to the building and then a LAN distribution around the flats in the building. In the UK there are operators such as Hyperoptic and Ask4 operating in what has been a niche market so far in the UK, but there is potential for these to grow significantly in the next year.
Beyond the usual complaints of Openreach acting to make FTTB deployments difficult, the UK with its 'my home is my castle' attitude means that large blocks of flats are a lot less common than in many other countries and this has also hampered FTTB adoption. Though it seems the niche operators have made Openreach wake up to the possibilities and we may see wider adoption of the delivery method. FTTB usually takes a bundle of fibres into the basement of a building, which is then converted to Ethernet, and network cables carry the service around the building. In flats where retro-fitting Ethernet cabling is difficult, then the copper telephone wiring can be utilised, in a FTTC style deployment.
In theory once Openreach completes its commercial fibre roll-out in 2014, there should be around 15% of UK homes with the option of FTTH or FTTB. How far that will push us up the league table depends on take-up of course, and adoption of the service by companies like Sky and TalkTalk in addition to BT Retail.
Comments
Post a comment
Login
Register