BT to replace faulty Openreach FTTC modems due to overheating
Friday, January 27, 2012 12:56 PM
BT will be replacing the FTTC (fibre-to-the-cabinet) modems that power its Infinity broadband service due to a faulty chip in the modem which could cause overheating. The letter sent out to BT Infinity customers explained they would be receiving a better Openreach modem for free, but did not mention why. According to a BT spokesman talking to The Register, the modems needed to be changed because of a malfunctioning chip, prone to overheating, although they were keen to point out that there is no risk of fire.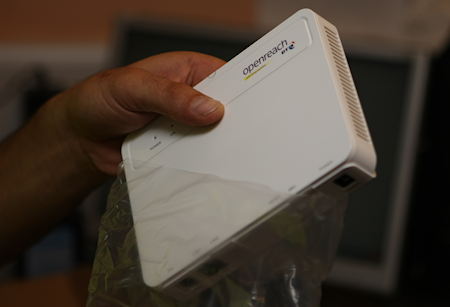 "We can confirm that Openreach has been replacing some of its modems with more reliable updated versions. This is because the connection could sometimes drop with some of the early modems that we deployed.

There has been no health or safety risk whatsoever associated with this issue but it is obviously important that the connection doesn't drop if the customer is to enjoy their service.

As a result, we are offering to visit any affected customers to provide them with an updated modem. In the meantime they can continue to use their old modem without any safety concerns.

BT Spokesman
The modems being replaced are ones that were shipped before August 2011, and these will be replaced by the Openreach contractor, Kelly Communications. All ISPs using the FTTC service will need to have their modems replaced.
Comments
Post a comment
Login
Register