Virgin Media suffer three hour outage to broadband platform
Wednesday, January 18, 2012 12:37 PM
Broadband giant Virgin Media suffered a major outage last night due to a 'routing hardware issue' according to their Forum Manager. The outage started at around 5pm and lasted around three hours with many Virgin customers affected, including both cable and ADSL broadband users, some leased lines, Virgin websites and even some Virgin phone systems, making it difficult for users to get hold of the company to find out what was going wrong.
Virgin took to Twitter to apologise for any inconvenience caused. 'Services are restored & stable for over an hour now. Engineers are on site monitoring. Thx for your patience, sorry for any inconvenience.' Customers also used the social media site to vent their frustration. Virgin released a statement apologising which didn't reveal any information about the cause of the incident.
"If you experienced a loss of internet connection between 5pm and 8pm on Tues 17th January, we experienced a national outage during this time, which is now resolved. If you have still not been able to reconnect - please try powering down your router for 5 minutes and then turn back on and this should re-establish your connection. Virgin Media apologise for any inconvenience caused."

Virgin Media Statement
Users monitoring their connection using our broadband quality monitoring service will have noticed a large red spike as can be seen below indicating the outage. It appears to have affected all users that use the service, with some having problems for longer than others.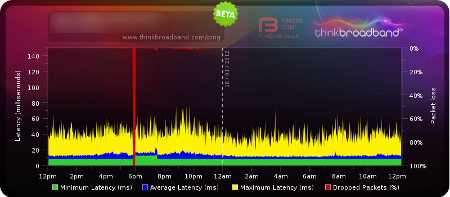 Comments
Post a comment
Login
Register