Ofcom publishes complaints data for Q3 2011
Tuesday, December 20, 2011 1:22 PM
Ofcom have released their latest data on complaints about broadband, phone and mobile providers and TalkTalk have come out as the most complained about provider again in both the landline phone service and fixed broadband categories. The summary graphs clearly show TalkTalk as the worst provider in terms of numbers, but the picture is more interesting if you read the full Telecoms Complaints publication, in this TalkTalk actually did better than BT Retail and Orange in July 2011, and while complaints have risen again, BT Retail is now not far behind for broadband complaints.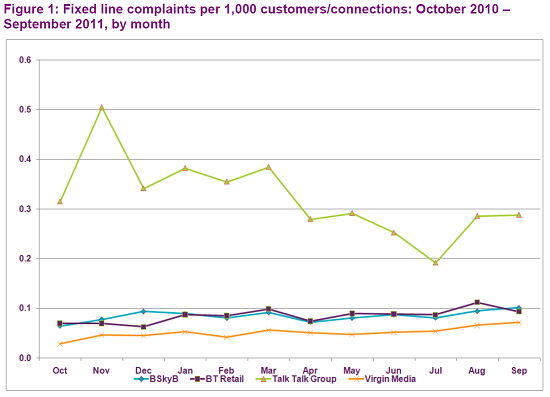 Fixed telephone line complaints per 1000 customers/connections October 2010 - September 2011, Source: Ofcom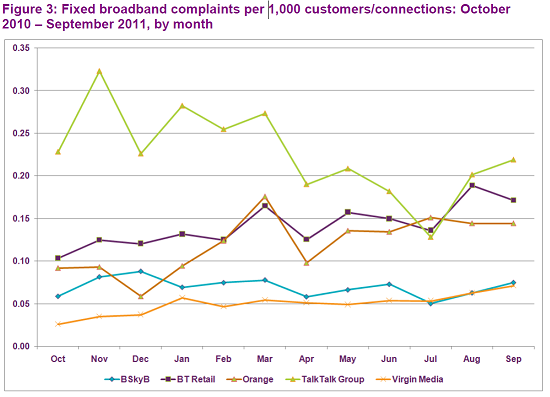 Fixed broadband complaints per 1000 customers/connections October 2010 - September 2011, Source: Ofcom
The reason TalkTalk is most likely at the top of the list is the continuing legacy of dealing with Tiscali, Pipex, Nildram and Freedom2Surf customers, particularly where they have been on legacy price deals and a myriad of disparate networks, which led to the £2.5m of refunds in February 2011. Another factor that needs to be taken into account is that the complaints data is only for complaints made to Ofcom, any complaints handled internally by a provider are not included in this data.
Ofcom while it is right to some extent to focus on the largest providers is neglecting a section of the market, one that is really the success story of UK broadband. While the big five providers account for something like around 90% of the market, the remaining 10% do deserve coverage, even if Ofcom were to group the data into two groups, providers with 100,000 to 700,000 customers and those with less than 100,000 customers. By aggregating data in this way Ofcom will be acknowledging the broad range of retail options for broadband, and if the data shows that complaints levels are low, help to show that better service is available. This is particularly the case for home workers and SME, who often still go with the big names as those names are all that are mentioned by Ofcom, and then in the national press coverage of Ofcom announcements.
Comments
Post a comment
Login
Register