BT claims innovations to speed up fibre roll-out
Tuesday, November 8, 2011 11:23 AM
Hidden away in a set of presentation slides detailing performance in the last quarter for BT are some interesting fibre access snippets. We have covered previous announcements about the deployment of Profile 17a that will see maximum speeds on FTTC rise to 80 Mbps, interestingly we are seeing the profile on the live network already, but end-user speeds are capped at 40Mbps still. Also the plans to offer a 300 Mbps FTTP product in 2012 has been announced before, the bits that are newer are an interest by BT in vectoring to take VDSL2 to speeds above 100 Mbps and the 1 Gbps field trial for FTTP.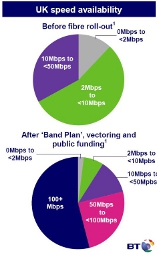 The above snippet from the report gives a rough idea of the speeds available across the UK as a whole excluding the 50 and 100 Mbps products available from Virgin Media. The lack of these numbers can be glossed over, as it is very likely the BT FTTC/P commercial roll-out will largely cover the same areas, where it is of interest is the rough proportions of the pie chart. We believe the chart is showing what BT thinks is capable using their existing network and technologies, for example the 5% or so with connections of 0 to 2 Mbps are what one would expect to be served by wireless or satellite services perhaps to meet the 2 Mbps for 2015 target.
In terms of innovations, six areas were mentioned and thanks to Trefor Davies of Timico for spotting them.
New spade with ability to cut through tarmac, reducing the need for separate civils teams.
Micro-trenching, allowing for faster deployment and lower building costs.
Mini DSLAM - small size and lower cost making for easier/cheaper deployment in rural areas and multi-dwelling units.
Conductive concrete - reduces build costs, and more cost effective at meeting electrical safety needs.
Polymer based plinth, new base plinth for cabinets to allow for faster installs.
Power supply infrastructure, apparently can now reduce install time by two weeks and remove need for a meter installation visit.
So whilst there may be lots of laughing over a new spade, if it does work and gets the job done quicker and costs less than the old method then credit where credit is due. In areas with pre-existing ducting, one of the biggest problems are collapsed/bloked ducts, and thus the need to dig down to these can delay jobs. The use of small DSLAMs is something we thought BT already had in mind with the variations of FTTC cabinet it was planning, but to see them mentioned in the context of multi-dwelling units is new, and may mean there is a willingness to get fibre to blocks of flats and install a 32 port or smaller DSLAM to serve every flat, the smallest models can even be powered by the DC power from a pre-existing copper telephone line.
The lowering of costs for all those looking to bid for BDUK funded areas is crucial, as while there is money available, not one part of the UK has come close to matching the £1000 or more that most estimate full FTTP costing per line. Generally BDUK funding runs at around £100 per household, add some matched funding from the council and similar from the commercial operator or residents and you might stretch to only £300 to £400 per property.
Comments
Post a comment
Login
Register