IPTV predicted to treble in Europe by 2020
Wednesday, September 28, 2011 2:25 PM
There will be over 160 million broadband subscribers in Europe by 2020 according to analysis from Point Topic. The company have studied how they expect broadband numbers to grow and have also looked at IPTV growth. They expect adoption to treble by 2020 with one in three broadband subscribers opting for an IPTV service and France are expected to be the leading country of the 27 European nations.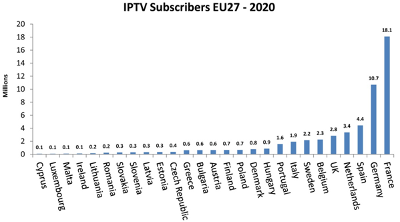 IPTV Subscribers in Europe by 2020, source: Point Topic
"The success of IPTV in France compared to other countries in Europe and worldwide can't be attributed to a single reason. A number of conditions exist which has made the diffusion of IPTV through the market much easier and quicker than in others, perhaps the main driver has been competition.

France, with Free Internet as a good example, has much clearer and more transparent tariffs for IPTV and that has not only earned the consumers trust but allowed them to align the value they derive from the services with the amount they pay. It's a simple equation but not the natural approach we've become used to from operators. Often the price isn't obvious for each bundle constituent, and there are a number of reasons for this, but the end result is that the consumer resists purchase far more than they might if they felt they had better information."

Oliver Johnson, (CEO) Point Topic
France have a much higher proportion of IPTV customers compared with the UK due to how TV is delivered in the different countries. The UK for example has favoured a satellite / cable network infrastructure which has reduced IPTV deployments, although with the advent of next-generation broadband based on fibre-to-the-home (FTTH) and fibre-to-the-cabinet (FTTC) we are likely to see some shift with the adoption of services like BT Vision and YouView.
Comments
Post a comment
Login
Register