TalkTalk still the most complained about broadband provider
Thursday, September 22, 2011 12:01 PM
Ofcom have released their latest data on complaints about broadband, phone and mobile providers and TalkTalk have come out as the most complained about provider again in both the landline phone service and fixed broadband categories. Ofcom receive around 350 complaints a day from consumers about telecoms providers and is now releasing stats from these in a quarterly publication. Only providers with more than 4% market share are included. For landline services, this means BT, Sky, TalkTalk and Virgin, with broadband covering the same providers and also Orange.
The period covers Q2 2011 (April to June) and sees that TalkTalk are still at the bottom of the table. In the landline category, they have significantly more complaints than other providers - 0.8 per 1000 customers - compared with BT and BSkyB on 0.25, and Virgin Media (who were the least complained about) on 0.15. It should be noted however that TalkTalk's result is a significant improvement on previous quarters which came in at 1.16 and 1.12 for Q4 2010 and Q1 2011 respectively.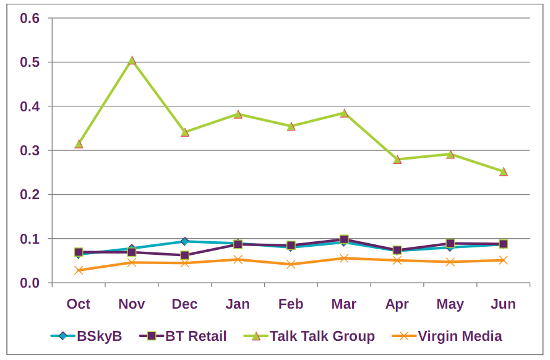 Fixed telephone line complaints per 1000 customers/connections October 2010 - June 2011, Source: Ofcom
In fixed-broadband TalkTalk have also seen a similar trend, with an improvement from 0.81 to 0.58 complaints per 1000 customers, although they are still the most complained about provider. Virgin Media come out best again in this category with 0.15 complaints per 1000 customers.
Whilst TalkTalk have come worst for the second consecutive quarter, they are improving, and if the current rate continues, they could be on a similar level to BT by next quarter.
"It's encouraging that Ofcom's data demonstrates that, following the Tiscali integration, the service we offer our customers has significantly improved in the last quarter with the number of complaints as a percentage of customers dropping by over 50%. We're simplifying our business for the benefit of our customers and calls to our customer services teams are down 40% from this time last year. We're also connecting new customers much more quickly and efficiently, last year it took an average of 23 days, today a customer will be connected in 14 days (which is the minimum allowed due to the cooling off period).

We're committed to providing good service alongside our best value and, while we clearly still have lots to do, we're confident that our customers are beginning to see the benefits of the changes we continue to make."

TalkTalk Statement
In the mobile category, Three remained the most complained about provider with the firm seeing a rise in complaints compared with the last quarter (now up to 0.14 complaints per 1000). This has been put down to disputes over charges and customer service issues. O2 ranked best, maintaining their low level of just 0.02 complaints per 1000 customers.
Ofcom's data does only include complaints that it has received, so the data may look different if everyone who had an issue complained. It would be also useful to see a breakdown into categories of what the complaints were about as different issues could affect providers in different ways which could create an unfair comparison. If you are thinking about complaining about your provider have a look at Ofcom's consumer guide for telecoms complaints.
Comments
Post a comment
Login
Register