Slowest street in the UK? Really?
Tuesday, September 20, 2011 2:59 PM
The ease with which an on-the-spot broadband speed test can be completed means that many users have tested their broadband connections speed using numerous web-based speed tests. Today a press release by uSwitch talks about the slowest fifty streets in the UK based on such data, confusing journalists and the public, based in part on the lack of clear information in the original release.
A number of news websites including The Guardian have mis-interpreted the 0.128Mb figure in the uSwitch report as 0.128 MegaBytes per second (MB/s), when it would appear to be 0.128 Megabits per second (Mb/s or Mbps). The original report should have been clearer and adopted a common notation such as 0.128Mbps (Megabits per second), i.e. show the full meaning in brackets the first time the units are used; missing off the time unit is a common shortening that pervades advertising and press releases for broadband. The average user struggles to understand the difference between a megabit and a megabyte, measurement units in a ratio of 1:8 apart (1MB/s or MegaByte per second = 8Mb/s Megabits per second).
One of the common ways of trying to explain what this means to users is to relate it to a 'real-world' example, however in this press release the company further confuses users by use of statistics which appear to, at least in our opinion, be questionable. It suggests that on these slowest connections, a movie would take 48 hours to download whilst a single music track would take 90 minutes. These numbers would equate to a movie being 2.7GB (Gigabytes) in size, although most standard definition movies manage between 1 to 1.5GB. Whilst this may be a perfectly valid point, it does warrant an explanation.
Getting the sums right
However what is more surprising is the discrepancy over the music track which based on their figures would have to be 90MB in size. Even taking an uncompressed CD-quality track, this would need to be 10 minutes in length, whereas most are shorter, and with common compression technologies such as MP3, most tracks are a fraction of this size, often around 5MB. At 0.134Mbps, a single 5MB MP3 single would take around 5 minutes to download. Even assuming the use high quality 160kbit/s (kilobits per second) encoding as used by the Apple iTunes service, the figures quoted by the compay are grossly over-estimated. Did they mean an album?
"Things are almost as bad on Forestfield, in the West Sussex town of Horsham, where the average broadband speed of just 0.134Mb again harks back to the Nineties. At that speed it may take up to a frustrating 90 minutes to download just one music track."

uSwitch Press Release
We have already seen evidence that broadband speeds are a factor which new home-buyers take into consideration when looking to purchase a property, so home owners on the streets labelled the UK's slowest may be concerned about how these types of results may put off potential buyers. The press release does not offer any detail on the statistiscal accuracy or sample size of the data at street-level, making the analysis at best, incomplete. If the results are based on repeated tests from a couple of properties for example, this could be grossly under-estimating speeds for the entire road, as speed issues could be caused by traffic shaping, selection of broadband package, wireless interference or problems with telephone wiring inside the homes. The use of 'mean' averages for this kind of statistic is perhaps also questionable, where medians or percentiles tell a fuller story. The company compares its results to the May 2011 Ofcom research, but surprisingly does not provide a UK-wide average of its data in the press release.
If we look more closely at the slowest street in the entire UK based on this data (Mount Pleasant in Hasleworth, Suffolk), this is less than 300 metres away from the telephone exhange based on uSwitch's own data and a nearby result 380 metres away is 5.9Mbps—We would very much like to see why the speed variation is so large if uSwitch believe this is the slowest street in the country.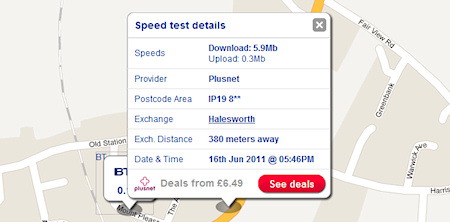 Screenshot of test result nearby to the UK's slowest street; Source: uSwitch.com;
Map data by Google Maps/Tele Atlas.
We agree there is a problem with broadband speeds which warrants discussion and debate and using case studies is helpful to translate this into plain english, but highlighting the 'worst 50 broadband streets' is often prone to problems as the data set is unlikely to be complete enough, even though they attract many headlines. We have already seen users contacting us some months ago to complain about their village being labelled as one of the slowest in Britain based on this type of press release, whilst excluding niche broadband providers which offer much faster services from the data set. When focussing on trying to name very small areas, in-depth analysis is very important. Average speeds tell us a story about the development of UK broadband, but they are difficult to compare statistically at street-level when reducing the figure to a single number. The range of speeds, providers and other information is essential before making judgements about an area.
We contacted uSwitch to seek clarification on the units, calculation methodology and statistical significance and received the following response:
"Firstly, we are referring to MB/s (Mbps) in the release. We use the shortened terminology as widely used by the UK's most popular ISPs. As for the calculations, the data is based on more than 1,500,000 speed tests were conducted through the uSwitch.com website between March and August 2011. The reason the map may have different results is because we do not show all results on the map - just the most recent tests for each postcode. However, all tests are logged, which is why we have such extensive data. The calculations are based on a uSwitch methodology, which uses our own data."

Statement by uSwitch.com
We're honestly not quite sure what to make of it. If this is the case, their figures are even more implausible. We'll try to seek further clarification and will of course update the article in due course.
Disclosure: We feel it is appropriate to highlight to readers that thinkbroadband collects and analyses speed test data of its own and therefore we are generally reluctant to openly criticise methodologies/analysis used by other sites which carry out similar functions, after all, it is in the consumers' interests to access such analysis from multiple sources. However, due to the number of significant concerns we have raised about this release and the fact it has already been covered in the national media, we believe that it is in the public interest for us to make our concerns known.
Comments
Post a comment
Login
Register