82.3% of adults in Britain have used the Internet
Wednesday, August 31, 2011 3:34 PM
The Office of National Statistics (ONS) have released data from their survey of Internet Access which encompasses both Households and Individuals in Great Britian. 41.26 million adults have used the Internet at some time in their lives whilst 8.73 million had never used it. One of the key points illustrated within the reports is the increase in mobile use of Internet access with over 6 million people accessing the Internet from their mobile phone for the first time in the last year. The rate of growth in this is highest in the 16-24 year old age group, with 71% now using a mobile phone for Internet access. This is a rise from 44% in 2010 and 33% in 2009.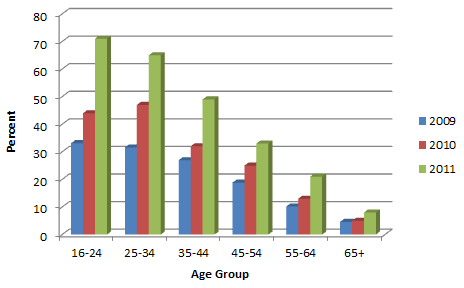 19 million households had an Internet Connection, representing 77% of households, a 4% increase on 2010. 93% of those questioned used broadband to access the Internet whilst only 2% used dial-up. The remainder used a mobile Internet connection. Of those not online, over half said they didn't need an Internet connection, whilst around a fifth said equipment costs were too high and another fifth said they lacked the skills to get online.
Internet use through Wi-Fi hotspots has also increased with a near doubling of the number of people connecting. 4.9 million people connected in 2011, compared with 2.6 million in 2010 and an estimated 0.7 million in 2007. This is largely due to the increase in number of Wi-Fi hotspots and the number of hotspots that are available for free, whether this be free for everyone, or free through a bundle with a fixed Internet connection or mobile phone subscriptions such as through those available to BT broadband customers.
Social networking is ever popular, with over 91% of 16 to 24 year old saying they used social networking websites. Interestingly, these are also popular with the older age groups, with nearly one fifth of Internet users aged over 65 using social networking. 66% of all adults had purchased goods or services over the Internet (a 4% increase on 2010), with clothes and sporting goods the most popular items, particularly with women.
Comments
Post a comment
Login
Register