OTA2 update shows a decline in LLU numbers in May
Tuesday, June 7, 2011 1:13 PM
The number of unbundled telephones lines, those connected to another operator at the telephone exchange through local loop unbundling (LLU), has fallen in the last month for the first time in several years according to data from the Office of the Telecommunications Adjudicator (OTA). A small drop of 60,000 lines was recorded with the numbers for the last few months as follows:
| | |
| --- | --- |
| February 2011 | 7.59 million |
| March 2011 | 7.60 million |
| April 2011 | 7.62 million |
| May 2011 | 7.56 million |
The figures show a levelling out which might indicate we have reached critical mass of LLU adoption for now, although the numbers do indicate that fully unbundled lines are still increasing. The graph below shows the long term trend.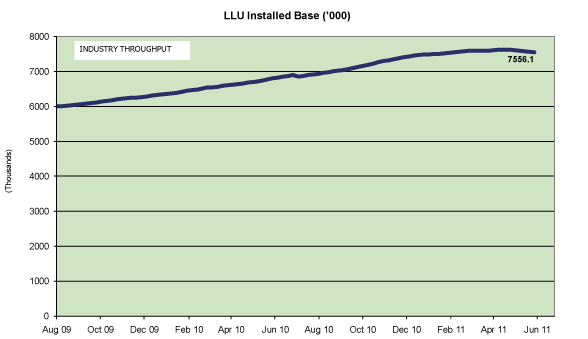 LLU installed base May 2011. Source: OTA2
Further details in this months OTA2 update indicate that there has been an improvement to lead times for new lines being installed and repairs following delays which had become apparant and had pushed new line installs up to 6 weeks in some cases. BT indicated that this was down to the weather towards the end of last year causing a backlog, but the size of the problems suggests that generally there was a lack of engineering resource.
Comments
Post a comment
Login
Register