TalkTalk most complained about telecom provider in UK
Thursday, April 21, 2011 4:04 PM
Ofcom has released details of the most complained about telecoms providers in the UK which show that TalkTalk received the most complaints for both their telephony and broadband services. Virgin Media received the least amount of complaints in each category.
The data comes from what will be published as quarterly complaints based on the 450 or so issues that Ofcom receives a day from consumers and covers the period October 2010 to February 2011. Ofcom have limited the data to providers with a market share of 5% or above, which means it only includes BSkyB, BT Retail, TalkTalk Group and Virgin Media. They do warn that it should be taken with a pinch of salt as it only covers complaints that users choose to raise with Ofcom. The law of averages suggests though that this should even out across providers and not cause one provider to be more heavily weighted than another.
The graph below shows the complaints for fixed-line telephony services which demonstrates that TalkTalk receive significantly more than the other providers, with a large spike in November which saw the number of complaints at more than five times other operators.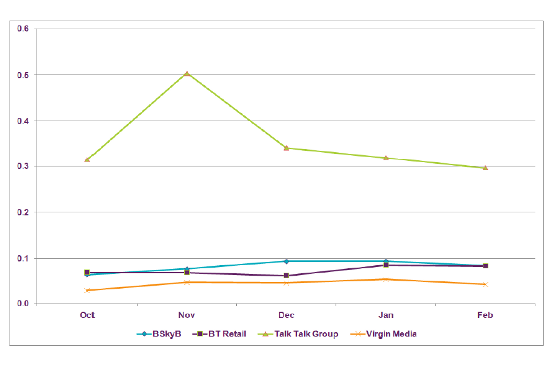 Fixed telephone line complaints per 1000 customers/connections October 2010 - February 2011, Source: Ofcom
Similarly, for broadband (show below), a similar trend is seen, with a large increase in complaints in November and complaint levels at nearly five times higher than that for Virgin Media who performed best.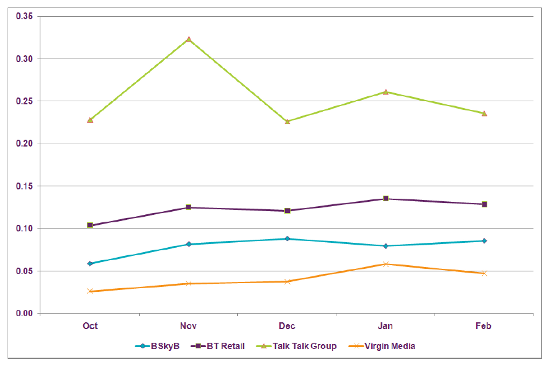 Fixed broadband complaints per 1000 customers/connections October 2010 - February 2011, Source: Ofcom
TalkTalk have put the higher level of complaints down to the migration of customers from Tiscali and their brands onto the TalkTalk network and billing platform, a process that has seen the company repay over £2.5 million to customers (and former customers) who had been incorrectly billed.
"We recognise that in the period in question not all customers received the service they deserved as we completed the complex task of moving them to our network and a new billing platform.

We are sorry for the disruption this caused and, while it is encouraging to see the number of complaints decreasing towards the end of this period, we continue to work tirelessly to improve."

TalkTalk spokesman
Virgin have performed considerably better than TalkTalk who came out worse, and their level of complaints was nearly half that of BSkyB and BT over the period concerned. Ofcom state that next time more operators should be included, and the with some of the smaller players on board, Virgin may not hold on to their lead. This is something they are aware of as they intend to improve on these statistics.
"Since the formation of Virgin Media in 2007, our mission has been to put our customers at the heart of everything we do. Delivering outstanding customer service has been our highest priority and we're pleased to see Ofcom's report demonstrates our approach is generating the right results."

Neil Berkett, (Chief Executive Officer) Virgin Media
Similar statistics were also collated for mobile operators, and included 3, O2, Orange, T-Mobile and Vodafone. Of these, O2 performed the best with over 3 times less complaints than Three who reached 0.15 per 1000 customers. Vodafone, Orange and T-Mobile performed relatively comparatively averaging around the same each month, apart from a large spike in January from T-Mobile which is related to the changes to their fair usage policy for data usage.
The full report with complete statistics can be found on the Ofcom website.
Comments
Post a comment
Login
Register