BT Wholesale equipment problem takes 9,000 customers offline
Thursday, March 31, 2011 12:21 PM
A number of users were disconnected from the Internet across various broadband service providers yesterday evening following a BT network problem. What was initially rumoured to be a fibre cut appears to be a hardware failure which took out users on both some 20CN and 21CN segments of the network.
We saw a number of outages across users subscribed to our free Broadband Quality Monitor tool: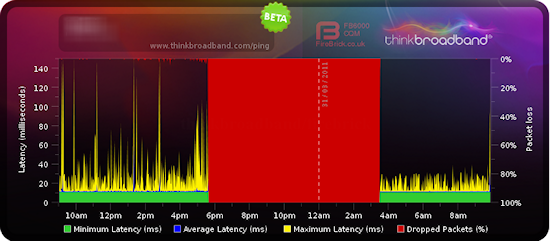 Reports suggest the issue seemed to be mostly restricted to smaller broadband providers using Wholesale Managed Broadband Connect (WMBC) and not those on the Wholesale Broadband Connect (WBC) service which is more prevalent across larger networks; our monitoring does suggest some PlusNet lines were also affected. AAISP's status page indicated the problem concerned lines on the 20CN-REGION-READING and 21CN-REGION-SL BRASs and also some Ethernet circuits. We understand from a couple of providers that around 10% of their broadband customers suffered an outage, although BT have advised us that approximately 9,000 broadband users were affected overall.
The problem began around 17:30 yesterday and appears to have been resolved by 03:00 this morning.
Comments
Post a comment
Login
Register