FTTH Council Europe reveal 3.9m FTTH subscribers in Europe
Wednesday, February 9, 2011 3:34 PM
At the Fibre to the Home (FTTH) Conference today in Milan, the FTTH Council Europe have announced that there are now nearly 3.9 million FTTH subscribers in Europe, an 18% increase in just six months. Including Russia in the figures increases this to 8.1 million (adding 895,000 subscribers in six months). The top 5 countries remain unchanged in their order with Lithuania still out in front, followed by Sweden, Norway, Slovenia and Slovakia.
Turkey is the biggest mover in the rankings, joining in the second half of 2010. They have gained over 200,000 subscriptions during the first year, and aim to reach 1 million homes by the end of 2011.
"Fibre to the home is becoming a truly international phenomenon. In the second half of 2010 Turkey became the 18th country to join the FTTH European Ranking. Emerging markets are very dynamic and often enter the Ranking in high positions, above the more mature markets of Northern and Western Europe. It is becoming increasingly obvious that major economies like Germany, Spain and the UK need to speed up or risk getting left behind."

Chris Holden, (President) FTTH Council Europe.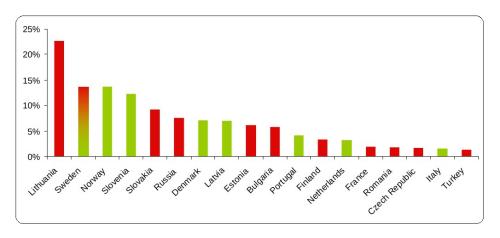 Household Penetration of Fibre to the Home (green) and Fibre to the Building (red)
Source: FTTH Council Europe
It will take some time for the likes of the UK to make it into the rankings, but hopefully with progression of FTTH deployments by Openreach, we should start to see homes becoming connected this year.
Comments
Post a comment
Login
Register