Vtesse Broadband launch Fibre-to-the-Home in Broughton
Tuesday, January 11, 2011 11:09 AM
Gigabit capable broadband is live in Broughton, near Huntingdon thanks to the launch of Vtesse Broadband's new fibre-to-the-home (FTTH) service. The first customers are live and the roll out is continuing to other residents. Using the terminology coined by the government, Vtesse have installed a 'digital village pump' which is connected to their multi gigabit fibre backbone network through underground fibres, and customers are connected to this to provide service.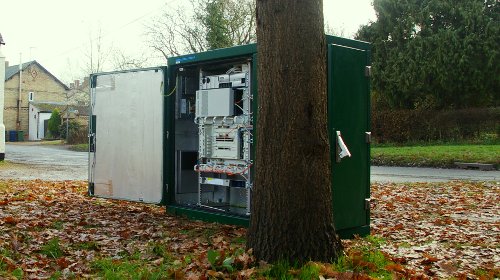 "Vtesse has provided us with an impressively fast and consistent service, which is a huge step forward for us. For years we have treated our use of the internet as a necessary evil, often waiting minutes on dial-up for simple page updates that may or may not complete. Streaming services or anything requiring large downloads were effectively unavailable to us. With the new service, everything becomes pretty much instantaneous, letting us focus on the content rather than the frustration that our old service delivered. Well done Vtesse!"

Nick Moulton, Broughton resident
Homes are being connected through overhead fibre cables which are being laid on new poles being installed by Vtesse. In time, they should be able to re-utilise those used by power companies or BT to provide service but Ofcom are still working through the process of making this happen.
"Broughton was chosen as it lies close to one of Vtesse's arterial fibre optic routes, making the cost of bringing fibre to the community acceptable. Our community fibre distribution model uses telephone poles to carry dedicated fibres from our local broadband exchange directly to each home. There is no fibre sharing and every connected home has a dedicated fibre service. With the unlimited capacity that fibre offers we are able to offer our Broughton customers services that range from an entry level 10Mbit/second through to a world beating symmetric1,000 Mbit/second (a.k.a. 1 Gigabit/second). We think that the combination of fibre overhead pole delivery to consumer premises and gigabit speeds is a UK first."

Aidan Paul, (Chief Executive) Vtesse
The service is priced at £25 per month for a 10Mbps connection and £55 for 100Mbps. Gigabit is an option but Vtesse see this more as a future upgrade for users as current pricing would mark this very expensive.
Comments
Post a comment
Login
Register