Water damage causes a fire in a BT exchange in London's Soho
Tuesday, December 21, 2010 12:02 PM
A fire has occurred in the Gerrard Street telephone exchange in central London (Soho) which has knocked out service to customers in the area, affecting phone lines, broadband connections and other services from the exchange. The BT Service Status page, which has recorded the problem since 5am, says the problem was caused by water damage from an adjacent building which caused an interruption to the power supply. The BTCare twitter user posted a photo to their Flickr page which shows some of the damage: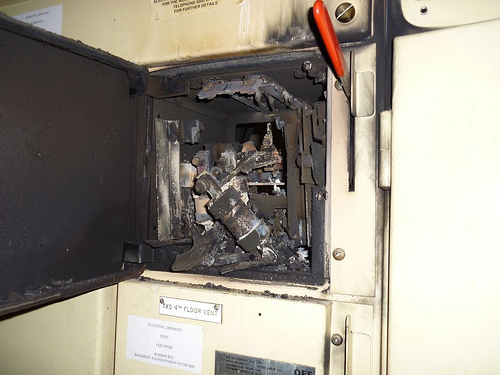 Engineers are on site and are working to repair the damage as soon as possible but thousands of customers are thought to have been affected.
"BT can confirm that water damage has disrupted power supply to an exchange in the west end of London. A number of customers in Central London are currently experiencing a loss of service. Following clearance from the Fire Brigade, BT's engineers are on site and working around the clock to repair the electrical cabling damage and restore service as quickly as possible. BT would like to apologise to all customers impacted.

Given the complexity of the damage, it is not yet possible to accurately predict when all services will be fully restored. BT will issue further updates as the situation changes."

BT Spokesman
The following dialling codes have been affected. 0203206, 0203214, 0203230, 0203238, 0207292, 0207434, 0207437, 0207439, 0207734, 0207851, 0207439 with possible problems to some other 020 London numbers.
Update: Wednesday 22/12/2010
All services have now been restored following this fire and if any users are still seeing problems, it is recommended they report a fault through their usual support channels for their service.
Comments
Post a comment
Login
Register