European broadband statistics show speeds on the rise
Friday, November 26, 2010 12:14 PM
Broadband speeds are on the rise across Europe according to statistics published today by the European Commission. As of July 2010, 29% of EU citizens had a broadband line speed of at least 10Mbps, up from 15% a year ago, and penetration is also slowly on the rise at 25.6 subscriptions per 100 citizens. With only a quarter having a broadband service, there is still a long way to go to reach the European target of 100% access to broadband by 2013.
87% of broadband lines are now above 2Mbps (81% a year ago) but those in the higher-speed categories are much lower. 4.4% have a broadband line equal or above 30Mbps whilst only 0.5% have one equal to or above 100Mbps. Comparing these European average figures to the UK is a little depressing. 97.2% of all UK are below 30Mbps, with only 2.8% above 30Mbps and unsurprisingly, 0% at 100Mbps or above.
"Fast broadband is digital oxygen, essential for Europe's prosperity and well-being. Take up and available speeds are improving, but we need to do more to reach our very fast broadband targets. In particular, we need urgent agreement on our proposal to ensure radio spectrum is available for mobile broadband, for which demand is growing very fast."

Neelie Kroes, (Vice-President for the Digital Agenda) European Commission
The high-speed leaders in Europe are Romania and Belgium with 43% and 26% of all broadband lines being over 30Mbps respectively. Other European countries such as Bulgaria, Lithuania, Sweden and Slovakia also have high numbers in this speed category. Romania and Bulgaria are at a bit of an advantage in roll-out as they don't have the legacy infrastructure in place which means they can go straight to installing faster services such as fibre without trying to milk the existing network for everything that it is worth.
The fixed-line technology market share helps to show this split across Europe and the UK comes equal last (along with France and Greece) in the use of other technologies (like fibre) with 0% usage. The below graph uses blue to represent DSL, orange cable, and green Other.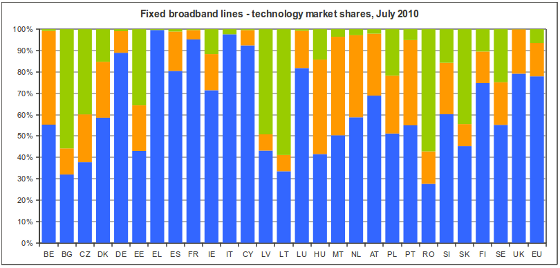 Mobile broadband is the biggest grower with Europe wide penetration of data card / USB modems at 6.1% (a rise from 5.2%). Finland tops penetration with a massive 21.5% compared with the next largest, Austria, where mobile broadband is seen as a substitute for fixed-broadband, with 16.7%. The UK held out at 6.9%, above the European average. Across all mobile broadband users, the UK saw 17.8 million active lines, second only to Germany who had 19.3 million.
Full details and statistics are available here.
Comments
Post a comment
Login
Register