The digital divide is growing, and only going to get worse
Wednesday, November 24, 2010 5:16 PM
The governments ambitions to have the best broadband in Europe are in danger of slipping through the cracks according to broadband analysis firm, Point Topic. Analysis conducted by the company shows that the digital divide between rural (final third) and urban areas is widening, with rural areas lacking the technology which is generally available in the urban areas which can deliver better and faster broadband.
Point Topic created a broadband infrastructure index based on its broadband geography database to calculate the percentage coverage of six different kinds of broadband infrastructure. The below graph shows the details of these and shows the disparity between rural and urban areas. Most worryingly is the large gap between rural and urban on next-generation access (NGA) at the end of 2015.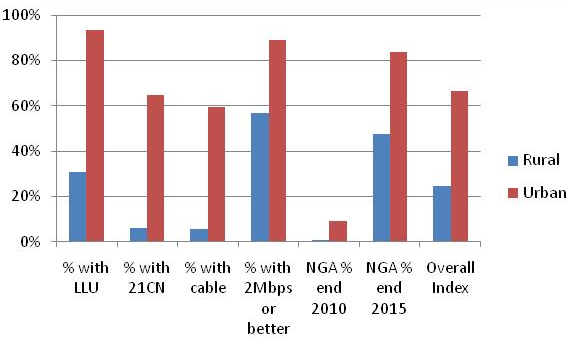 Point Topic Broadband Infrastructure Index
Rural communities need to be more inventive in encouraging investment into broadband within their areas, and various projects have already shown this with people willing to dig trenches through their own gardens to help reduce the costs of getting connected to faster broadband. There are of course risks from implementing such solutions.
"There are too many questions left unanswered. How can a small operator deploy a network when there is a real concern they'll be gazumped by a BT or Virgin deployment as yet unannounced? How can small operators afford to pay extortionate rates on any fibre they do install and still make the numbers add up? How can the county councils or the local economic partnerships get any funding or sign any partners without adequate information?

The Coalition has got to address these issues urgently if it wants to get a good broadband infrastructure in Britain. Hopefully the broadband strategy paper to be published in December will make a start. But their retreat from tackling the grossly unfair fibre tax has been bitterly disappointing already. They've got a lot of ground to make up if they really want 'the best broadband in Europe' by the time of the next election."

Tim Johnson, (Chief Analyst) Point Topic
Comments
Post a comment
Login
Register