Virgin use supercar taxis to promote their super-fast broadband
Wednesday, October 27, 2010 5:16 PM
Virgin Media are launching their 100meg broadband service in style with a fleet of supercar taxis which will be roaming the streets of London tomorrow, Thursday 28th October. The cars will be available for the general public to hail, free of charge, between 10am and 4pm, being driven to their destination in Central London.
The three car fleet of premium taxis are made up of a Porsche 997 Turbo Gen 1, a Ferrari 430 F1 Coupe and an Aston Martin DBS, in black and the iconic yellow taxi light donning their roof.
"With today's announcement of our new 100Mb service, we wanted to do something fun and iconic to celebrate - our fleet of Ultrafast Taxis rolling out in London tomorrow will provide commuters a bit of excitement to liven up their day and the opportunity to get a taste of life in the fast lane courtesy of Virgin Media."

Jon James, (Executive Director Broadband) Virgin Media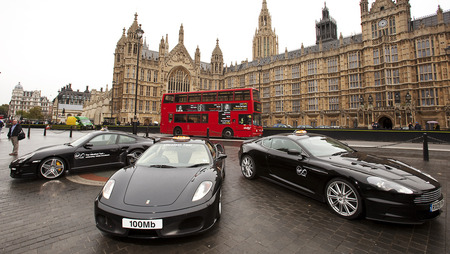 Virgin are encouraging tweeters to send in photos they see of the cars on the #100MbTaxi hashtag.
To make it a bit more fun, we'd like you to e-mail us any pictures you see of these super-fast cars stuck in traffic (even better, if you see one stuck in traffic next to an empty bus lane!) and/or using a bus lane–If we are sent a perfect photo, we'll give away £50 in Amazon.co.uk vouchers to the photographer.
Guidelines:
All submissions should be e-mailed to

[email protected]

with subject line "100Mbps Taxi".
Please attach unedited full resolution photos in JPG format
You may (and we encourage you to) submit multiple photos
You can only submit photos you have taken yourself
Please make sure that the photos clearly show the congested road and the Virgin 100Mbps Taxi (with branding)
Bonus points for getting a photo with a BT/Openreach van next to, in front of or behind the Virgin taxi.
We may publish submissions on our website and we will credit it with your name and/or twitter username if provided.
If we find a photo we'd like to use more widely, we'll give away a £50 Amazon.co.uk voucher for each photo we choose in return for an exclusive* right to use in whatever form (we will still credit you as photographer); * unless you choose to make the photo available under Creative Commons "by attribution" licence, which we encourage :)
Finally, we reserve the right not to select any photos or to withdraw this offer at any time. All photos must be submitted by 28/10/2010 23:59.
We realise the difficulty of getting such a photo, but in the spirit of fun, we thought it would be interesting to see if someone does :)
Comments
Post a comment
Login
Register