One in five broadband users have a VoIP service
Wednesday, October 27, 2010 4:08 PM
VoIP (Voice over IP) is the add-on of choice in the broadband industry according to figures from Point Topic which show that one in five consumer broadband connections worldwide now come with a VoIP telephony service. There are over 100 million VoIP subscriptions, having passed the milestone at the end of 2009 and another 12 million were added in the first half of 2012.
One of the main drivers for this take-up is broadband operators offering bundles that include a VoIP service. France is the leader in this field with VoIP penetrating to 92.42% of broadband subscriptions, around 70% of all French households.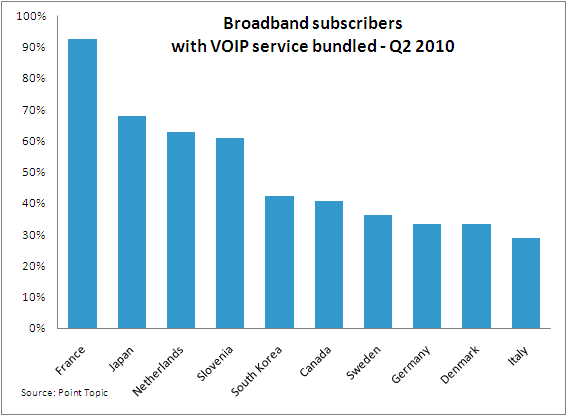 The UK ranked 15th using the above data with VoIP penetrating to 17.91% of broadband customers, a little below average. The US lay only just outside the top 10 in 11th place with 27.91% penetration. Whilst the US top the charts of total number of VoIP subscriptions (23.9 million), China, the country with the highest broadband penetration, only managed 4.87% penetration into this with VoIP, ranking 25th.
"VoIP has come a long way in a short time. It's attractive to consumers as it is priced very competitively in terms of subscription and call charges. It's attractive to operators as it's a straightforward implementation that offers a chance for them to differentiate their services. There's no reason to believe growth is going to slow significantly until a market reaches saturation and we could reasonably expect to see 200 million subscribers by 2015."

John Bosnell, (Senior Analyst) Point Topic
Of course, whilst a VoIP connection may be bundled with a broadband service, and 92% penetration is impressive, there is no data on how many of these people actually regularly use it.
Comments
Post a comment
Login
Register